Site Blockers to Remove Distractions While You Work
Updated on 08 Aug 2023 • 6 min read
Focus is a crucial aspect of our daily life, it affects you on both levels: personal and professional. Constant distractions are coming from modern technology and the fast-paced nature of society, which makes it more and more essential to cultivate the ability to stay focused on the task at hand. With better focus, your productivity, decision-making abilities, and a range of other important aspects of your life can be boosted to new heights.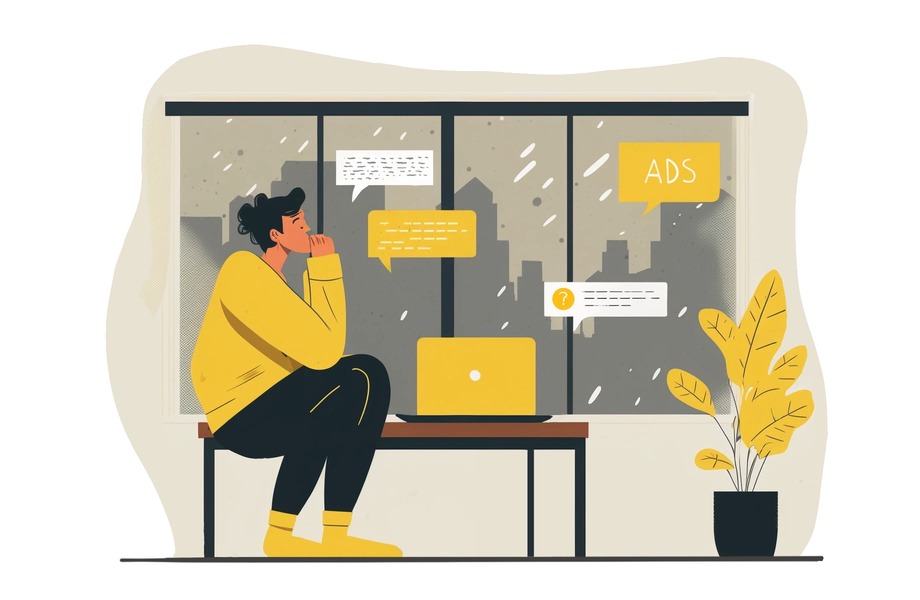 In today's world, having a site blocker can be an effective way of regulating online habits and enhancing focus. Implementing a website blocker can become a valuable asset in streamlining your work routine, it can help you achieve your goals and work more efficiently.
In this article, we are going to explore how such simple tools as site blockers can help you to improve your focus and reach your full potential.
What is Website Blocker
A site blocker is a piece of software that restricts access to certain websites and apps. Generally speaking, it creates a blacklist of websites and apps that are blocked when you try to access them. You can set the blocked websites and apps, and the software will prevent them from being accessed. Usually, it's done through an error message or a redirect to a more productive site.
There are different ways to configure site blockers and they can have various features besides basic site-blocking functionality:
Time limits: you can set a specific time limit for accessing a certain website or app before it is blocked.
Scheduling: you can schedule blocks for certain websites or apps during specific times of the day or days of the week.
Whitelisting: you can create a whitelist of websites or apps that are always allowed, even when other sites or apps are blocked.
Activity monitoring: when you track your websites/apps usage and get insights into your habits to make more informed decisions about which websites or apps to block.
Block categories: you can block entire categories of websites.
Benefits of Using a Site Blocker
Using a site blocker can bring you a lot of benefits and make it a valuable tool to improve your focus and increase overall efficiency.
Increased Productivity and Focus
By limiting access to distractions such as social media, games, and news websites, you can concentrate better on your work and achieve more in less time. According to the study, site blockers can help you to avoid the urge to check your phone or switch tabs, and instead keep yourself focused on the task at hand.
Reduction of Distractions and Time-Wasting Activities
By eliminating the temptation to engage in non-work-related activities, you can stay focused on what's important and get more done.
Better Control Over Your Online Habits
By setting limits on the amount of time spent on certain websites and apps, you can take control of your habits and prevent yourself from getting lost in the black hole of the internet.
In general, site blocker usage leads to better management of your time, less wasted time, and improved focus on what's important. Site blockers help to establish healthy online habits, allowing to use tech as a tool rather than a distraction.
Best Website Blockers
Whether you're looking for a simple solution to limit distractions or a more robust tool to manage your online habits, with so many options available, it can be difficult to determine which site blocker fits you. Choosing the right site blocker can help you to improve productivity and focus. That's why we compiled a list of the top site blockers, taking into consideration factors such as ease of use, customization options, and effectiveness.
Yellow Tomato Pomodoro Timer
Wired to see the Pomodoro timer in the list of website blockers, isn't it? However, it's the Yellow Tomato Chrome extension that can block certain websites that you specify in settings. Using a combination of the Pomodoro method and a site blocker can help you enhance your focus and concentration.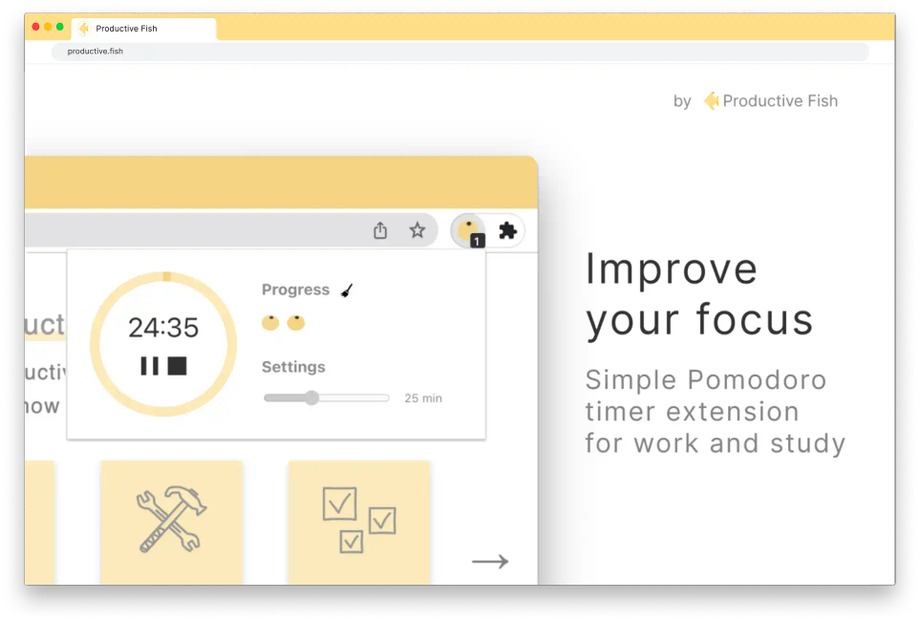 To use the Yellow Tomato and its new site-blocking feature, follow the next steps:
Download the Yellow Tomato — Pomodoro Timer & Site Blocker.
Open the Chrome extension.
Click on the "Settings" icon.
List the URLs of distracting sites (one site address per line).
Run the Pomodoro timer.
If you open the blocked site, Yellow Tomato will remind you that it is blocked for the current session. Once the timer runs out, Yellow Tomato sends a notification to your screen, reminding you to take a well-deserved break before diving into the next productive Pomodoro session.
Freedom
Freedom is a highly effective app and website blocker, trusted by over 2 million people to boost their productivity and focus. Whether you're on a Mac, Windows, Android, iOS, or Chrome device, Freedom can help you eliminate distractions and reclaim your time.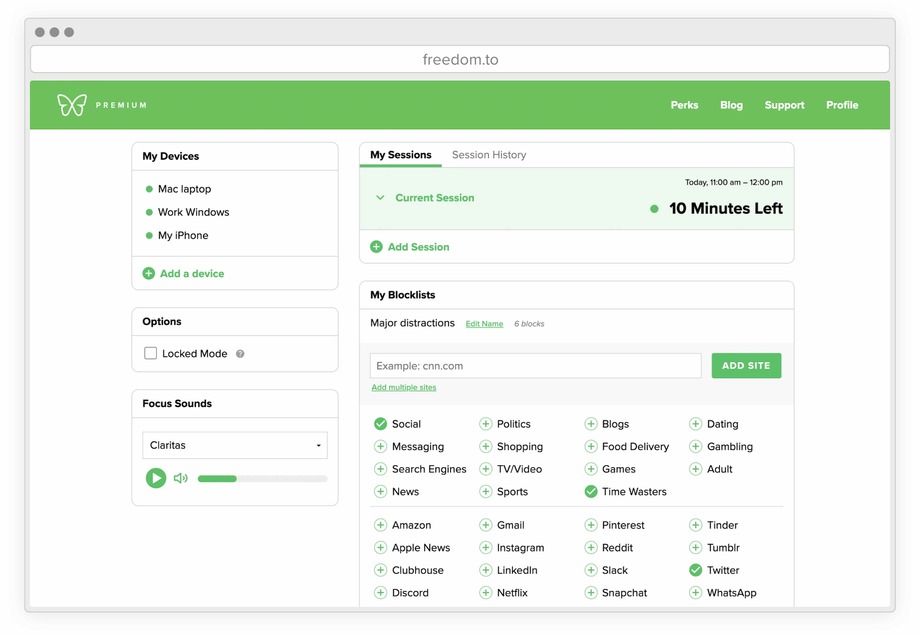 The app enables you to block access to distracting websites and apps and also allows you to schedule focused time periods, so you can concentrate on your tasks without interruptions. With its user-friendly interface and customizable options, Freedom is the ideal solution for anyone seeking to improve focus and efficiency.
Cold Turkey
Cold Turkey is a website, game, and application blocker designed to help you eliminate distractions and stay focused on your work. The app is known for its powerful features that are simple to use, making it a great choice for anyone looking to improve their focus.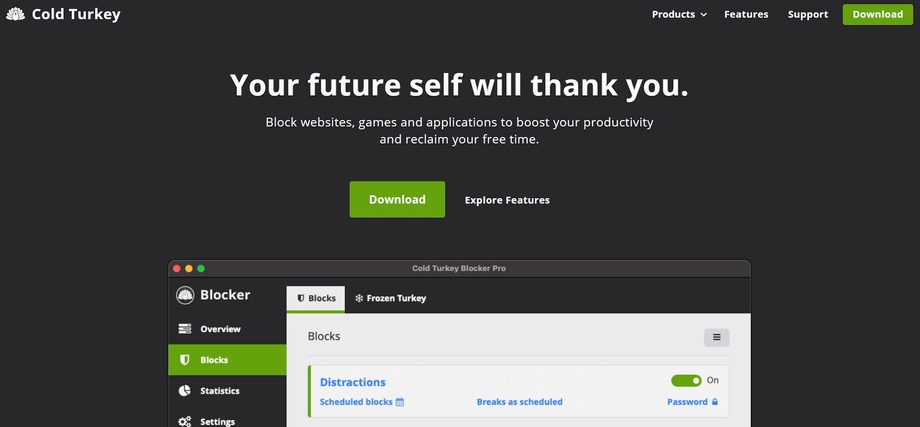 Besides simple site blocking logic, it gives the ability to schedule website and app blocks, lock a block so that the user cannot turn it off, and even block internet access on the computer to prevent distractions. On the other side, powerful statistics will allow you to keep track of what you are spending time on.
In addition, Cold Turkey is a one-time purchase, which is cost-effective for those looking to eliminate distractions for good.
Stayfocusd
Stayfocusd is not only a simple site blocker for Google Chrome but also your personal partner to keep you focused on your work and overcome time-wasting temptations. It's your go-to solution if you struggle with staying focused due to social media, news websites, or any other distractions.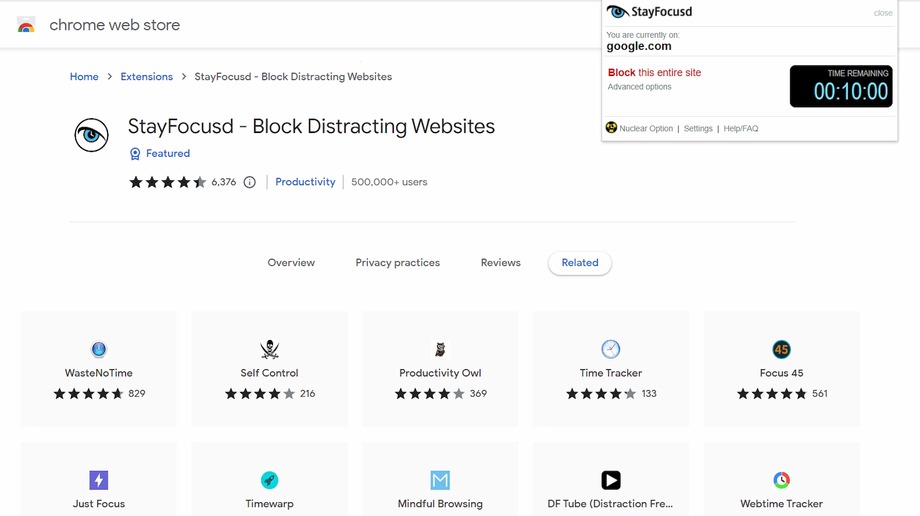 The user-friendly interface allows you to effortlessly set limits on your time spent on distracting websites, providing a solid boundary to keep you productive and on track. Once you reach your daily limit, these websites will be blocked, keeping you focused and helping you achieve your goals.
StayFree
StayFree is a multi-platform app that helps you to free yourself from distractions and overuse of your gadgets. The app seamlessly integrates with all of your devices to optimize their screen time and help you stay productive. StayFree blocks distracting apps and websites and allows users to set usage limits. It can also be integrated with Focus mode, which is a huge advantage.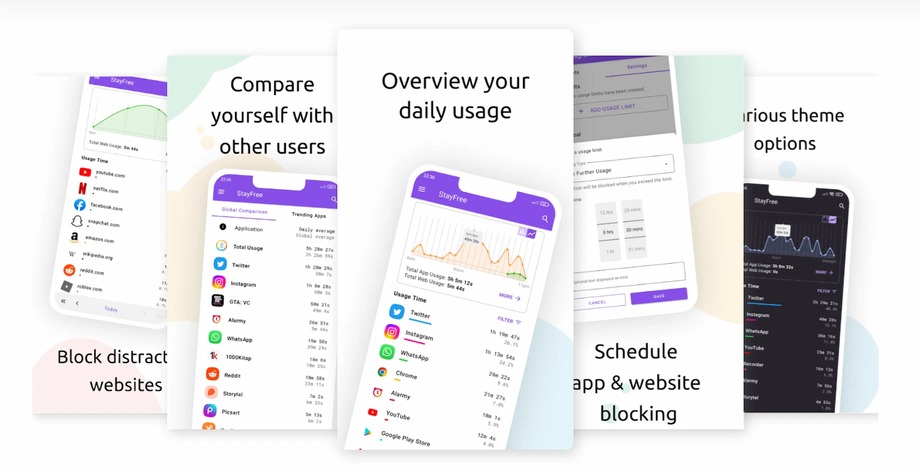 With its perfect graphical representations of device usage, StayFree offers valuable insights that can help to understand the time spent. This info will certainly help to identify periods of high usage and create a plan to reduce screen time during busy periods. With StayFree, you can focus on what's important and optimize your device usage easily.
Serene app
Serene is a powerful macOS app that helps you take control of your productivity. It provides three essential techniques to help you achieve more: planning your day, blocking distractions, and boosting your focus. With Serene, you can define one goal each day and break your day into focused sessions, which is proven to help you stay on track and achieve your objectives.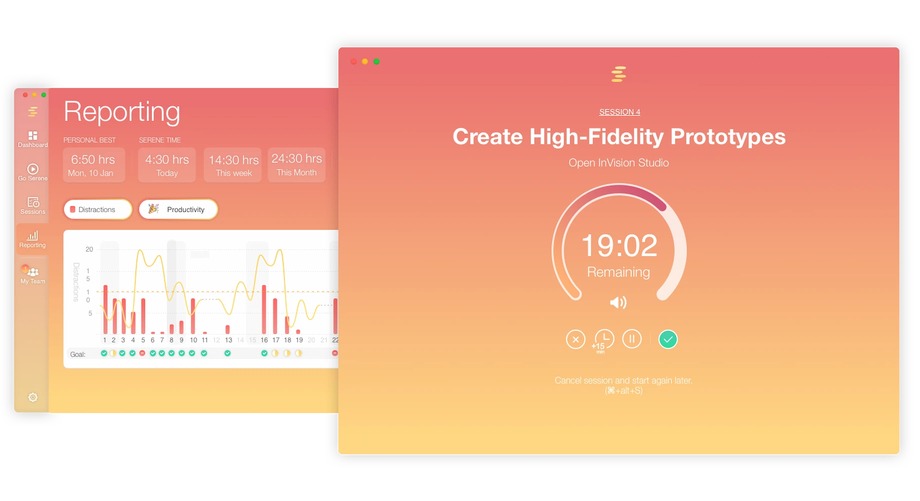 Serene is the go-to tool for entrepreneurs, marketers, developers, freelancers, designers, and writers who want to prioritize their essential work. It can help you achieve uninterrupted deep work and focus on what truly matters.
How to Choose a Site Blocker that Fits
There are tons of options available, so choosing the right website blocker can be a challenge for anybody. Here are a few things to consider when choosing the one that fits:
Platform compatibility
It's important to pick a blocker that is compatible with all your devices, it may help to build a kind of ecosystem and benefit from it. Some site blockers are only available for certain platforms (like macOS or Chrome) while others are available cross-platform.
Features
Consider what features are essential to you. Some software allow you to block specific websites, while others offer features like scheduling focused time or tracking device usage. Choose a blocker that offers the features you need to stay productive.
Ease of use
You want a website blocker that is easy to use and set up. Consider the user interface and the instructions provided to make sure you can get started right away.
Price
Consider the cost of the tool. Some are available for free, while others require a subscription or one-time purchase. Select a software to block websites that fits your budget and offers the features you need.
User reviews
Read user reviews to see what others are saying about the site blocker. Look for feedback on the features, ease of use, and overall effectiveness of the blocker to make an informed decision.
By considering these factors, you can pick the right site blocker to help you reclaim your focus and productivity.
Conclusion
Site blockers can greatly improve your focus and productivity, reduce distractions and help you better manage your online habits. The different website blockers described above each offer unique features and benefits that cater to specific needs. Scheduling focused time, setting usage limits, enhancing focus with additional tools — there is a site blocker that matches your preferences.