Time Tracking Tools to Manage Your Time
Updated on 04 Jul 2023 • 11 min read
Are you self-employed and sometimes struggle to manage your time properly? Or perhaps you work for a company and would love to manage your time better, boost your productivity, and climb the corporate ladder faster?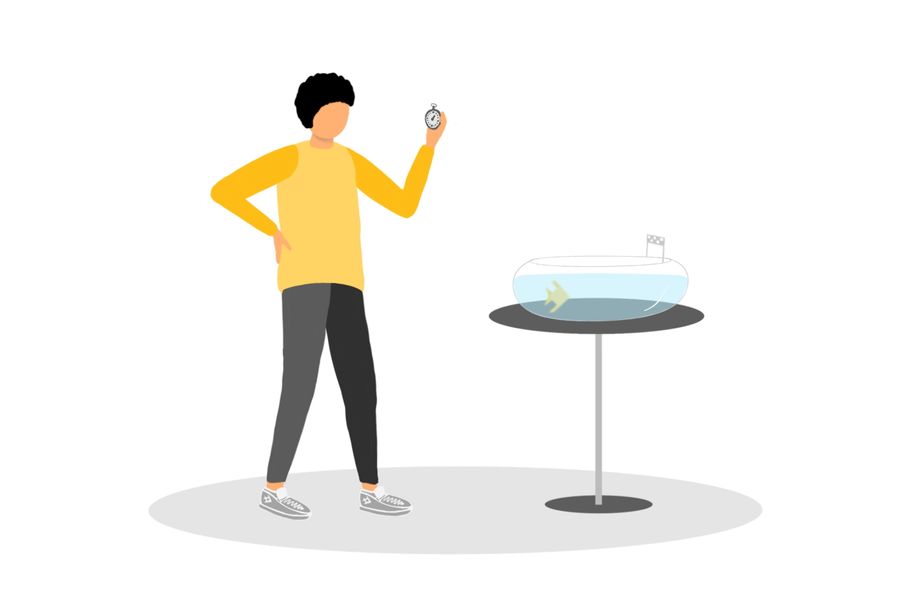 Time is a finite resource, and as such, it's often ranked number one on successful people's list as their most valuable asset.
Indeed, whether coaching clients, selling a product online, or working for an employer in HR, Finance, or Marketing, time is your most valuable asset, and therefore, it must be spent wisely. This means that you'll only be able to achieve your goals by allocating your time to productive tasks that can greatly improve your life.
As a result, if you're looking to boost your productivity, increase your bottom line, and get more done in a day, time management is key. To be successful, you'll need to work smarter, not harder!
So, are you wondering what to do to manage your time better and work smarter?
In this article, we'll guide you through the importance of time tracking and how time tracking can benefit you. We'll also explain what makes a great time tracking app and highlight six of our favorite time tracking software.
The Importance of Time Tracking
Time tracking is the process of recording how you spend your time. And it is an essential component to consider in order to achieve your goals. Indeed, after listing your main goals or projects and breaking them down into tasks, time tracking will help you to monitor the time spent on each task or project to ensure you're investing your time effectively.
By being able to identify certain trends over time, you can make better decisions about what tasks and activities pay off the best, where you should allocate your time, and how much of it you need to complete specific tasks.
Top Benefits of Time Tracking
Time tracking is one of the most efficient ways to boost your productivity and help you improve your performance.
We've listed below some of the top benefits of monitoring your time every day:
Reducing Distractions During Your Work Time
Whether working on a complex project or just sorting documents, it might be easy to let our minds wander and procrastinate. Besides, in a digital era, where we are bombarded with information, distractions are everywhere. In fact, according to an article published on Campaign Monitor, the average worker receives 121 work-related emails per day. We also receive 46 personal notifications on average every day on our phones. Add to this the instant messaging and the 10,000 ads we're exposed to daily, and it's easy to see why our brain can quickly become overloaded and lose focus. And most of us check our phones mechanically and almost unconsciously (96 times a day on average).
By tracking your time meticulously, you can start identifying patterns, track how long you spend on each non-work-related activity during the day, and adjust your working routine by turning notifications, instant messaging, or emails off when you need to concentrate. Note that distractions could also be coming from unexpected visitors, and by logging the time spent chatting to them, you'll be able to adjust and optimize your time.
Boosting Your Productivity
Understand how you spend your time:
You might be spending a lot of your time on email or admin tasks and not enough time talking to clients or collaborating with other teams. Keeping a thorough log of your activities across the day can help you identify whether you're allocating too much time to certain tasks and not enough to others, thus increasing the time spent on productive tasks.
Besides, analyzing when you typically do certain tasks can also be very helpful to help increase your productivity and ultimately reach your goals. Indeed, as human beings, we tend to start our day by crossing off our list the easiest tasks and leave the more challenging ones for later. Many studies have shown that we tend to be more productive in the morning. Therefore, tackling complex tasks early in the day can significantly help improve your productivity.
Adjust your working routine:
By visualizing how you spend your time, you'll also be able to make adjustments to increase your productivity in the future. For instance, if you've noticed that you spend way too much time on emails (much more than you thought), you can use the insights to adjust your routine and perhaps read your emails twice a day instead of reading them as they come. A great thing to do could be to disable your email notifications while working on difficult tasks and re-enable them once you're done. This way, you'll be free from distractions and able to better focus on your projects and important tasks, thus increasing your overall productivity.
Increasing Your Earnings
Tracking your time will give you powerful insights into how you split your time between projects and clients and whether or not you should allocate your time differently in order to increase your earnings. You might be spending a lot of time working on a low-value but demanding client while neglecting higher-value clients. If that's the case, you'll need to shift your priorities to invest your time more efficiently and boost your income. Besides, tracking the exact number of hours you're spending on a project can help you bill your clients more accurately, which can work in your favor. And the great news is that some time tracking tools can help you identify your priorities, optimize your days and make informed strategic decisions that will help you improve your bottom line.
Note that if you have a team helping you, time tracking can be a useful tool to ensure employees are making the best use of their time and invest their energy in high-value activities. Indeed, by asking them to log in their activities in a time tracking software, you'll be able to quickly identify activities they might be spending too much time on, such as internal meetings, emails, or creating documents. This will allow you to draft a new plan of action with them and discuss activities they should allocate more time to, such as high paying client meetings and prospective calls, increasing customer service quality, and overall earnings.
What Makes a Great Time Tracking App
Say you're in the zone, your creative juice is flowing, and you're at the peak of your productive time. Lucky you! While being ultra-productive is the best way to achieve your goals, you still need to track your time to ensure you're optimizing it as best you can. Now, breaking your creative flow in order to log in your activities and monitor how you're spending your time could negatively impact your productivity. That's why you need to automate the process by using time tracking tools!
When selecting a time tracker, you need to ensure that it allows you to:
Track Your Time in Real-Time
While most apps let you time your tasks to the minute using a start and stop button, we thought we should still mention it. If you want to increase your productivity, being able to track your time to the minute with a running clock is crucial. Besides, not only will it help you better understand how your time is spent, but it'll also increase your focus as you know the clock is running.
Manually Edit Tracked Time
Say you forgot to clock off when you finished a task or took a phone call for ten minutes in the middle of a task. Having the ability to edit your time entries afterward is the best way to accurately track your time and bill your clients accordingly.
Add Time Blocks
Many time-trackers users admit it; sometimes, you will forget to track your time. However, if that happens, you need to ensure your app lets you add additional time blocks post hoc.
Generate Reports
Reporting features are extremely important as they allow you to track time spent on tasks, clients, and projects on a daily, weekly, and monthly basis. Reports and dashboards will provide you with insightful data that will allow you to quickly analyze patterns and trends and adjust your working routine accordingly. They're also a great way for you to establish trust and transparency with your clients as you can send them the reports to show them how many hours you've spent on their project.
Export Data and Invoice Clients
If you work with a team or with suppliers, you might need to share certain data with them. Therefore, the perfect tracking app should enable you to share insights with others. It should also provide the option to invoice clients directly from the tool based on the time spent on their projects, turning your invoicing tasks into a seamless process.
The Best Time Tracking Software
Now that we've established using a time tracking app can help you improve your productivity and achieve your goals, and we've detailed what features you should be looking for in a time tracking software, you might be wondering which one is the best to use. To assist you, we've listed below some of the best time tracking tools available, including some free time tracking apps.
monday.com is a multifunctional platform created for customizing your workflow. Users can easily centralize all processes, tools, and files into one work OS. The tool provides diverse building blocks, integrations, ways of automation, etc. You can use monday.com via browser or download it as an app on your desktop. It is also available on iOS and Android to manage your projects on the go.
Some of the main free and paid features include:
Free:
Time tracking
Task management
Dashboards and reporting
Basic integrations (Google Calendar, Trello, Slack, etc.)
Mobile app access.
Paid:
Advanced integrations (Jira, Asana, GitHub, etc.)
Resource Management
Custom workflows
Advanced reporting and analytics
Project budgets and expenses tracking
Gantt charts and project timelines
Unlimited dashboards and custom forms
Custom branding and white labeling
Priority support.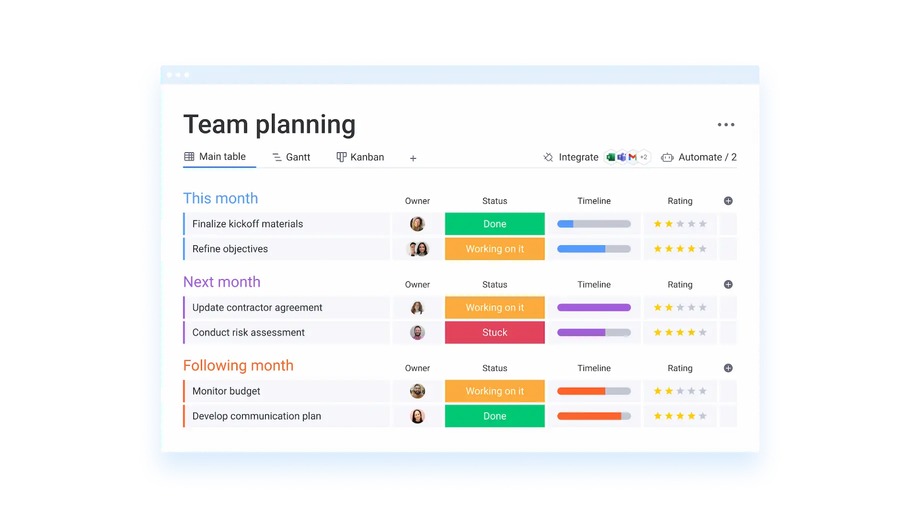 Time tracking tools from monday.com develop a transparent environment. Employees may automatically log their working hours, and project managers can monitor their progress without looking over their shoulders. And even if you accidentally delete some items (columns or groups from your boards), you can easily recover them. Users can also manually change a time entry if they forget to start the timer or leave it on by accident.

Toggl is one of the most popular free time tracking software (there is also a paid version). The tool is available on iOS and Android, but you can also download Toggl as an app to use on your desktop or use it as a Google Chrome extension.
Some of the main free and paid features include:
Free:
Auto-tracker (automatically suggest time entries in case you forget to enter a new task).
Time-Tracking.
Pomodoro Timer.
Calendar Integration (calendar events become time entries).
Paid:
Background Tracking (automatically tracks apps and websites you spend more than 10 seconds on).
Timeline.
Project Planning and collaboration with in-task comments and team and project dashboard options.
Checklists.
Email Tracking Reminders.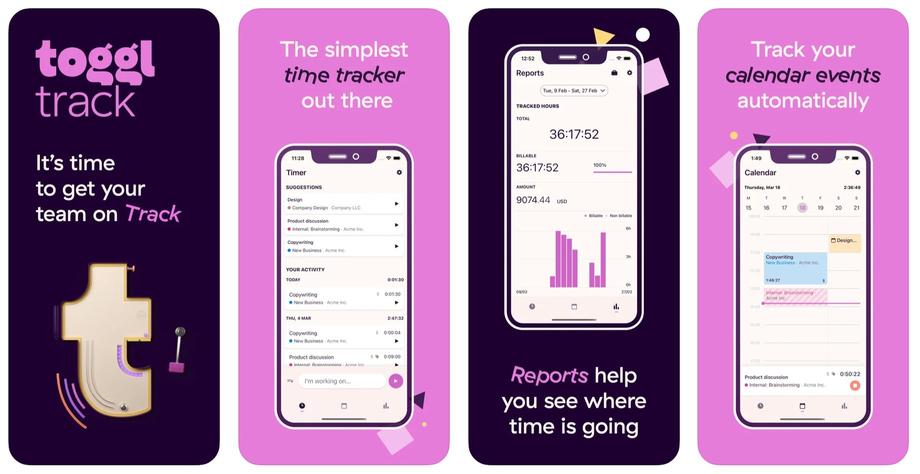 The main function of Toggl is to allow freelancers, employers, or employees to track their time and optimize their working day according to the insights provided by the app. Toggl is designed to make monitoring your time easy. All you need to do is create a task and hit the start button while you're working on the task. This will enable you to see how long you've spent on it. You might even be surprised as you realize how long specific tasks can actually take you to complete!
By tracking your time this way, you'll feel more accountable as the clock is ticking. Once you're done, you can tag your task accordingly (marketing, financials, etc.) or move it into a project. At the end of each week, you'll be able to populate a report showing you how much time was spent on each task. You can then add this report to a client invoice to show them the exact amount of work you did.
Note that the paid version of Toggl starts at $8/month and per team, but the great thing about Toggl is that the free version encompasses some great features and might be sufficient if you're a solo entrepreneur.
Timely is a paid automatic time tracking tool. While it can be set up to work in the background, automatically tracking the time you've spent on specific webpages and software, you can also monitor your working hours or your team's working hours manually. Timely is available on Android, iOS, and Windows to download. You can also sign in with Google or use the web edition. It can be used as a solo user or as a team.
Indeed, whether you're a solo entrepreneur or manage a team, Timely is a great tool to track your time, team, or projects.
Some of the main features include:
Creating projects and tasks and editing the details
Associating time logs with projects
Automatically tracking your time
Planning your projects
Monitoring your team and your projects
Connecting to your Google Calendar and Gmail that enables automatic syncing with your meetings, adding them to the timeline and tracking emails
Creating custom or pre-made reporting
Budgeting (budget and project rates)
Syncing with other applications such as Asana, Harvest and GitHub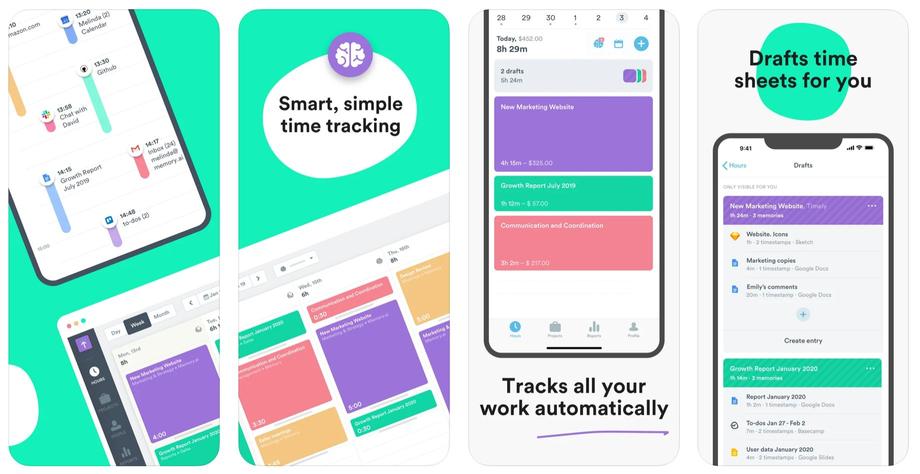 The power of Timely resides in its AI and memory application. Indeed, the app is designed based on machine learning, and as time goes, it will be able to analyze your pattern and pre-fill your calendar and timeline based on the activities and tasks you perform every week and the time you usually spend on each of them. The basic plan starts at $8/month per user.
Timeluar is a great solution for team time tracking. It comes with a nifty eight-sided dice tracker designed to help you better manage your time. The plans start from $9 per month
Timeular is different from other trackers discussed in this article in that it features a physical tracker that links to the app. On each side of the dice (physical tracker), you'll need to handwrite a meaningful task to you, such as emails or client meetings for example. And whenever you start a task, you'll need to physically flip the tracker on the assigned task. When you change tasks, flip it to the new activity as every time you flip the dice, it will automatically populate a new timesheet on your app and track your new activity. Note that you can connect the dice to macOS, Windows, Linux, iOS, and Android devices.
Some of the main features of Timeular include:
Tracking time to the minute
Automatically populating timesheets
Syncing your data with 2000+ apps
Exporting customized reports
Tracking team and projects
Emailing clients when starting to work on a project
Connecting to your calendar
Customizing the app using Timeular API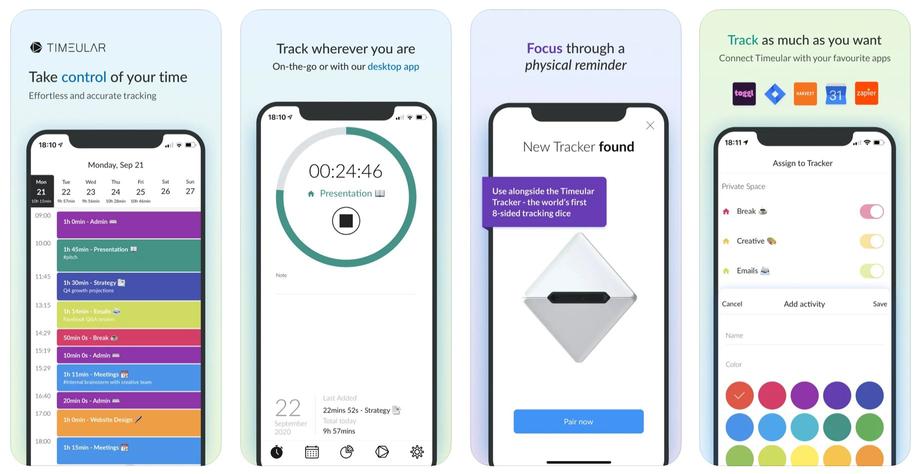 One of the main benefits of Timeular is that any developer can customize the tool and tailor it to your needs. Besides, the app provides users with the ability to physically switch tasks while making time tracking automatic, thus increasing the chances of tracking your time accurately. Indeed, we often get distracted by the phone or emails, and by assigning emails and phone tasks on your dice, you'll be able to account for every minute of your time including distractions!
Harvest is popular among entrepreneurs and small businesses. This time tracking app helps you monitor your time and invoice your clients accordingly. Harvest is available on iOS and Android as well as on Windows and Mac.
Note that while Harvest offers a free option, it only allows you to track two projects so we put this tool in the paid app basket. The Pro plan costs $12 per month for unlimited users and projects.
Some of the main features of Harvest include:
Manually starting and stopping timers
Editing your time entries
Adding weekly timer entries
Tracking your team's time
Monitoring billable hours and invoicing clients
Reporting features
Automatic reminders
Planning projects
Integration with other time management software such as Asana, Trello, etc.
Tracking expenses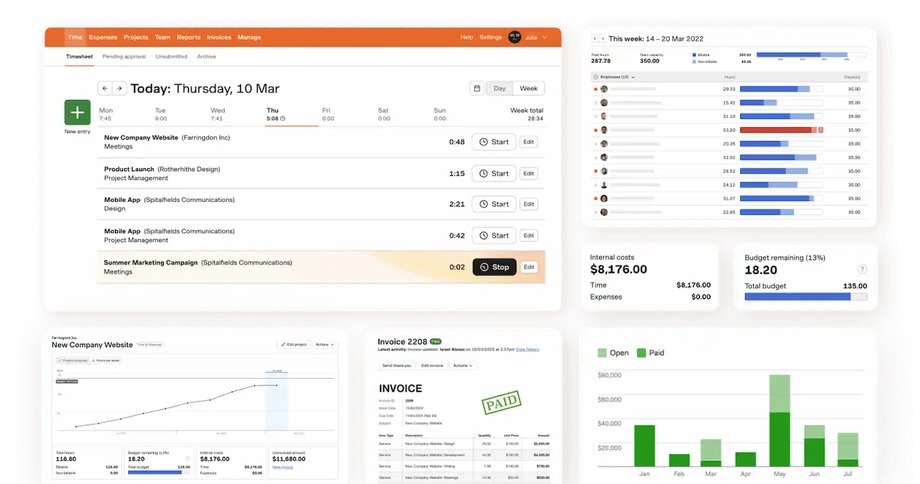 One of the main benefits of using Harvest is the flexibility and simplicity of the app. It's also a great invoicing tool that allows clients to seamlessly pay their invoices on a recurring day each month.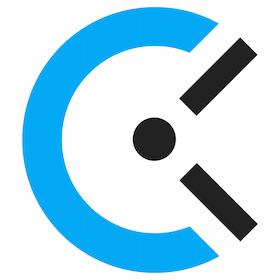 Clockify is another popular time tracker. The tool lets you and your team track your time with a click, which explains its popularity. In the same way you can create a task and hit the timer button with Toggl, Clockify lets you manually track the amount of time spent on a specific task or project. Once you've hit the stop button, your new entry will be automatically added to your time-sheet. Along with letting you track your tasks and projects, the tool also allows users to track their team's time.
Some of the main features include:
Manually tracking your time and your team's time
Tracking projects
Reporting to identify billable hours
Filtering reports by clients, weeks, and months
Exporting data
Forecasting project performance
Integration with other apps to track the time you've spent on other apps too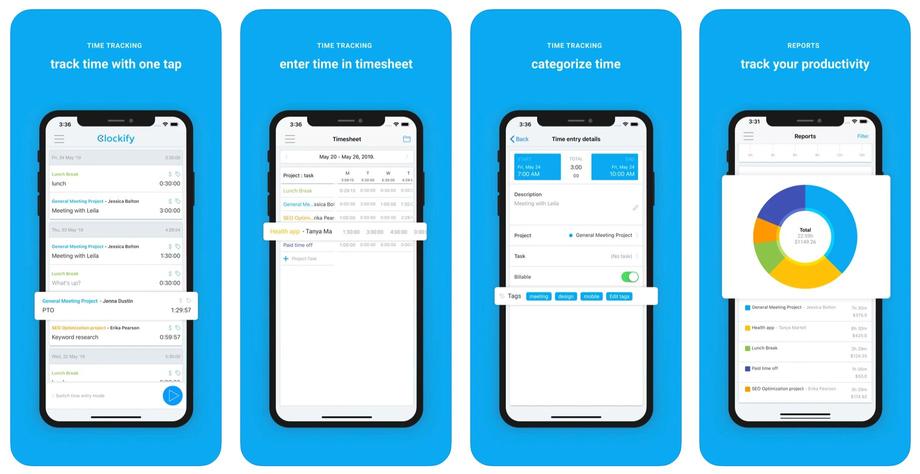 The great thing about Clockify is that it's completely free regardless of the number of users and the features you use.
Forecast is a powerful business management AI native platform that allows solo entrepreneurs and companies to track their business performance by monitoring the time spent on each of their projects and automating their workload. The tool is designed to help freelancers, entrepreneurs, and companies make better informed strategic decisions and strengthen clients' relationships by offering seamless project management resources.
Some of the key features of the app include:
Automating project planning and scheduling
Receiving AI-driven timesheet suggestions
Automating cost and budget estimations
Sharing live reports with clients and stakeholders for increased transparency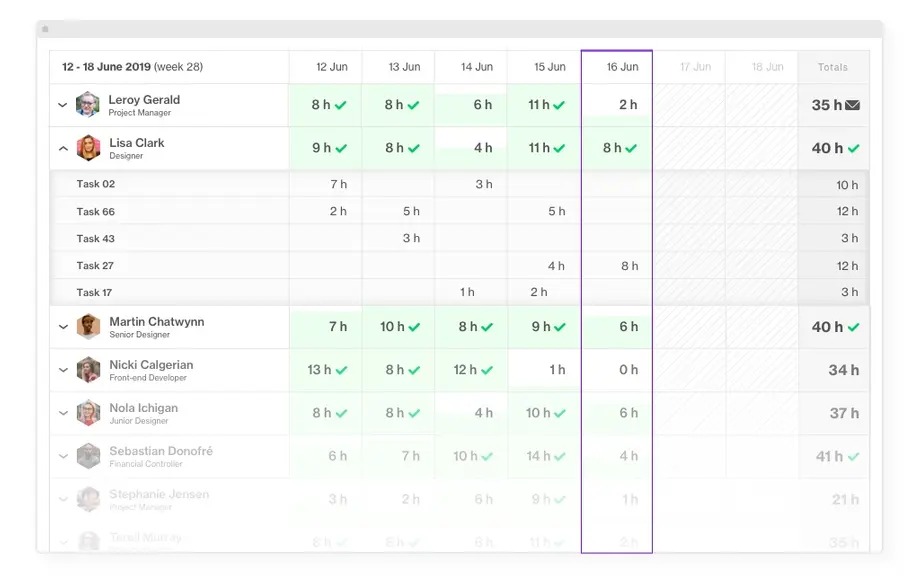 The main benefit of Forecast resides in its AI-driven automation abilities. Indeed, thanks to the app, you can save time and focus on the most important tasks at hand as it accurately estimates costs, automatically plans, estimates, or reschedules tasks, and allocates resources to projects. The basic plan starts at $25/month and per user.
Rize is an automatic time tracker for desktops that aims to improve your focus and work habits. It captures time spent on your computer without needing manual intervention. The tool generates daily and weekly reports, breaking down your productivity metrics and time usage. Customizable categories and tracking schedules provide a personalized experience, aligning with your specific work style.
Some of the key features of the app include:
Automatic time tracking
Daily & weekly reports
Customizable categories and tracking schedule
Break and overworking notifications
Google & Outlook calendar integrations
Session timer
Desktop widget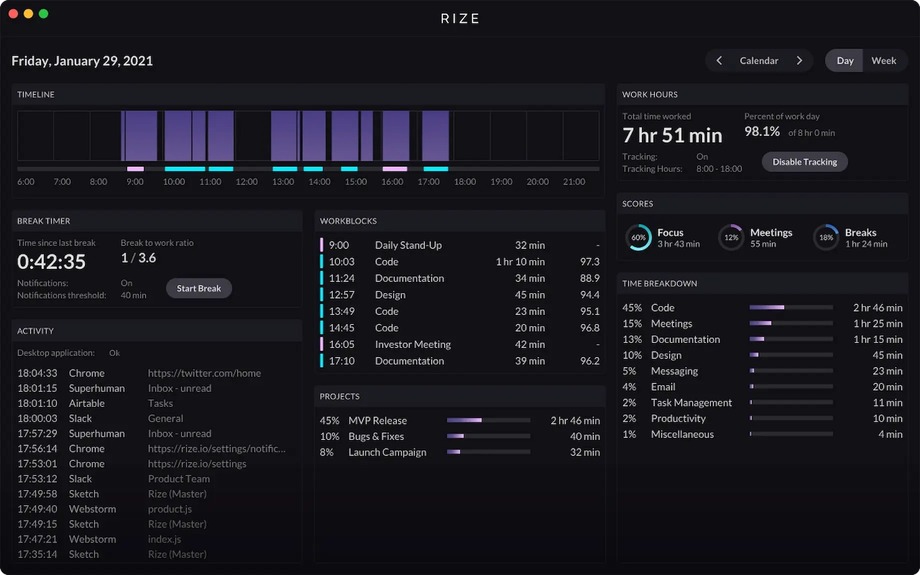 The app comes with a free plan, which offers a session timer and retains one day of data. For advanced features, you can upgrade to an annual billing at $9.99 per month or a monthly billing at $14.99 per month. Both plans include a 7-day free trial without needing a credit card.
Track Your Time
While improving your productivity can require several tools and methods, time tracking is undoubtedly a key component of success. Therefore, whether you choose a free or paid app, make sure the tool you select allows you to accurately track each and every task in order to optimize your day and increase your earnings.
Have you been using a time tracking software for a while and have experienced a significant improvement in productivity? If that's the case, we'd love to read all about your experience in the comment section below!