5 Best Task Management Software to Boost Your Productivity in 2023
Updated on 09 May 2023 • 6 min read
Are you constantly missing deadlines?
Do you feel like you lack organization and your productivity is impacted?
Then, you might need to use task management software!
Task management apps have gained tremendous traction over the last decade as increasingly fast-paced lifestyles lead us to seek ways to be more efficient and productive while enjoying a better work-life balance.
And that's exactly what task management app can help you with; be more efficient, more productive, and reach your goals faster while saving precious time you can then spend doing the things you love.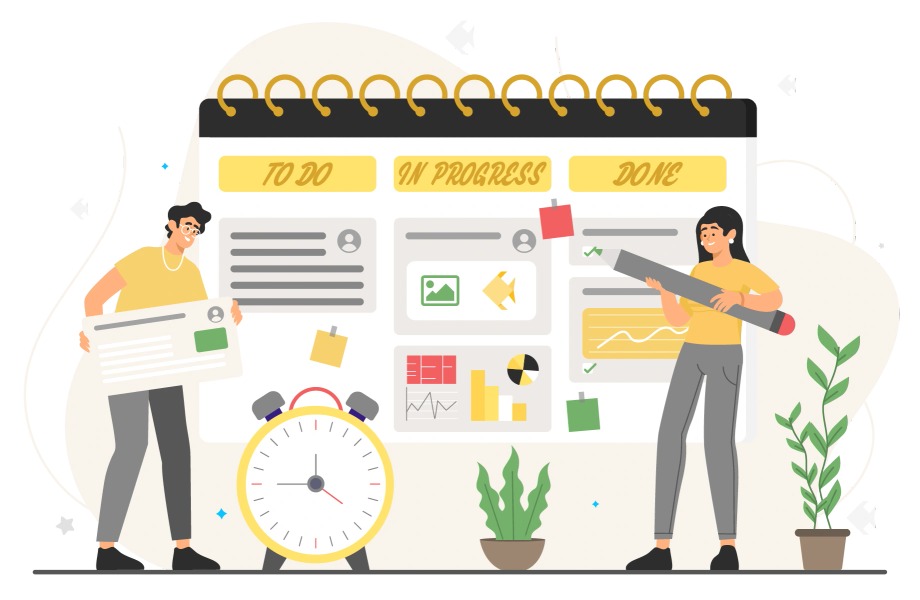 But what is task management exactly? And how to choose the best task management software for your needs?
This is what we'll tackle today!
What is Task Management
Task management refers to the process of breaking down overarching goals into smaller, more manageable tasks and managing them through their entire life cycle. It requires you to plan, test, track and report.
Now, there's often confusion between task and project management.
Task management focuses on managing an individual task from conception to finish. Unlike a project, a task doesn't necessarily have a goal or a specific deadline. Combined with other tasks, it simply contributes towards the execution of a project.
In fact, task management is an inherent function of project management.
Note that task management tools can be used to make task management smoother and more efficient and can help individuals achieve their goals through completing a set of work or school-related tasks or even personal tasks.
But more on this later ;)
Why You Should Use Task Management Software
Using task management tools can have many benefits, and we've listed some of the main ones below:
Streamline Your Workflow
An efficient task management tool brings all the tasks that need to be completed for a project together in one place. And this, in turn, allows you to streamline your workflow and maximize your efficiency because you don't need to jump from one tool to another to get things done. Besides, task management programs allow you to spot inefficiencies and repetitive tasks and fix bottlenecks.
Enhance Synergies
Have you ever attended a long-winded business meeting where tasks were assigned, the next steps discussed, and completely forgot to write everything down? Or perhaps you found yourself in a situation where a project scope changed, and you had to update each team member individually?
Task management software enables you to edit tasks as you go and allows everyone to see real-time updates. And this, in turn, allows for more effective communication and is more conducive to collaboration and synergies.
Increase Your Productivity
One of the biggest benefits of using a task management app is that it prevents you from wasting time going through the information and trying to organize it every day. And this, in turn, allows you to work more efficiently, thus enhancing your productivity. Besides, using task management app makes it easy for you to keep track of your responsibilities, and deadlines, keep up with your workload and get things done.
Best Task Management Software Features
As a general rule of thumb, typical features of task management software include the following:
Task and subtask creation
Task scheduling allowing you to set deadlines
Task assignment and reassignment, which can include internal or external stakeholders
Task customization to help you edit as you go based on specific situations
Task prioritization so that you can maximize your time and never miss deadlines
Task organization through the use of labels or tags
Recurring tasks feature allowing you to automate repetitive tasks and steps in your workflow
Notification to remind you about upcoming tasks and deadlines
Report generation and tracking helping you easily analyze and monitor your progress against the overall goals
Task sorting
Calendar
To-do-list to help you easily visualize your tasks
Security and access control
Mobile capability and integration with other systems to help streamline your workflow.
Note that task management software can be free. But to unlock the tool's full potential you might be required to pay a monthly subscription, depending on the features and number of users who need access to the tool.
Best Task Management App
There are many different task management apps available, each with its unique features and capabilities. The five best task management software is listed below.
Todoist
As the name suggests, Todoiost is a to-do list app allowing users to easily create tasks and track them as they go. It's extremely easy to use and is a fantastic tool for individuals seeking help organizing their personal and professional lives and improving their productivity. While Todoist used to be better equipped to cater to individuals' needs, the company recently added some great features to its app, catering to small businesses needs too.
Here are some of the best Todoist's features:
Quick add to capture tasks within seconds
Recurring due dates
Sections and subtask features
Priority levels and favorites
Reminders and notifications
Task delegation
Boards, labels, and filters
Comments
Calendar feeds.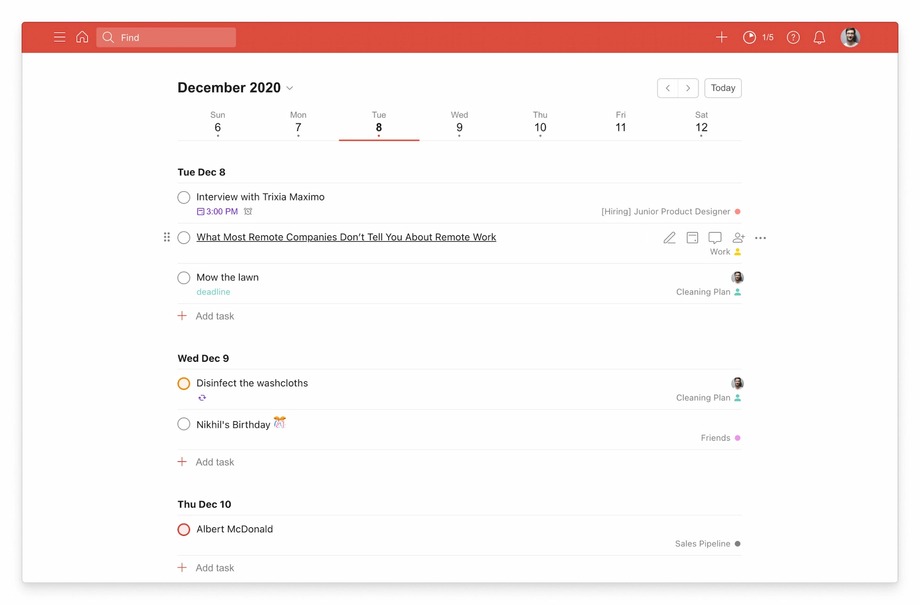 Todoist has a free option for users who don't need to work on more than five projects simultaneously. Otherwise, there are two paid plans: the Pro plan which costs $4 a month per user and allows them to have up to 300 active projects, and the Business plan which costs $6 a month per user and allows users to work on up to 500 projects simultaneously.
monday.com
monday.com is one of the most popular task management tools, and for good reason. It allows individuals and teams to quickly create workflow apps, adapt their tasks to changing needs, and seamlessly collaborate. The visual mind map it provides, the clean design, and easy of use are some of the features users love the most about monday.com
So, if you're wondering whether this is the best task management software for you, here are some of monday.com's the most powerful features:
Project Data Visualizations & Dashboards allowing users to easily track relevant KPIs and create charts and graphs
Guided automation
Real-time collaboration features such as chats, assigned comments, likes, and mentions
Drag and drop timeline
Time tracking tool
Built-in reporting feature
Third-party integrations with countless apps and tools
Native mobile app
Work, assignment, and notification automation.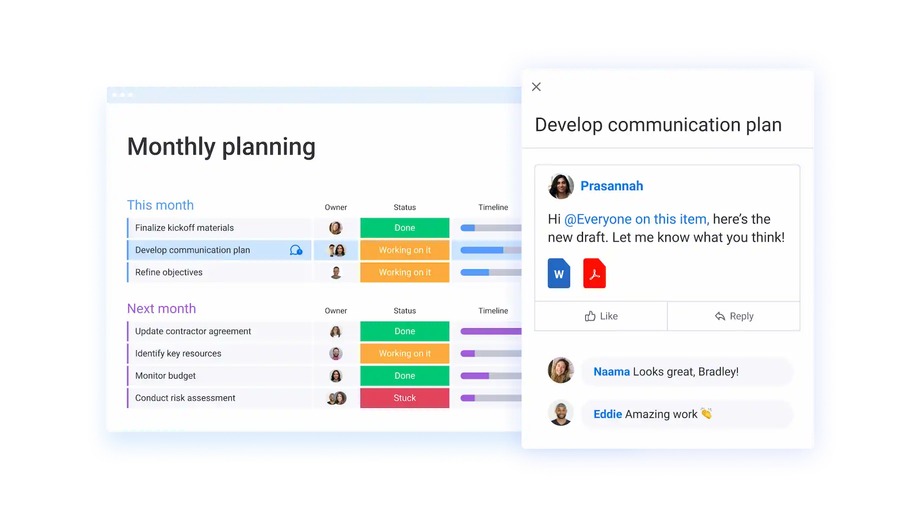 monday.com offers a free plan for individuals looking to keep track of their workload and deadlines. The paid plans start at $11 a month per user and go up to $22 and over for larger companies needing a more tailored solution.
ClickUp
ClickUp is, without a doubt, one of the best task management software available on the market. So much so that companies like Google or Airbnb are using it! But what is so special about ClickUp?
Well, not only does it have all of the features you need to manage your tasks efficiently, but it's also incredibly easy to use.
Some of the most powerful features users have access to with ClickUp include the following:
Task customization
Multiple views
Collaboration features such as assigned comments and mentions, collaboration * detection, proofing, whiteboards, and shared docs
Real-time reporting
Time tracking
Sorting and filtering
Templates
Integration with over 1000 tools.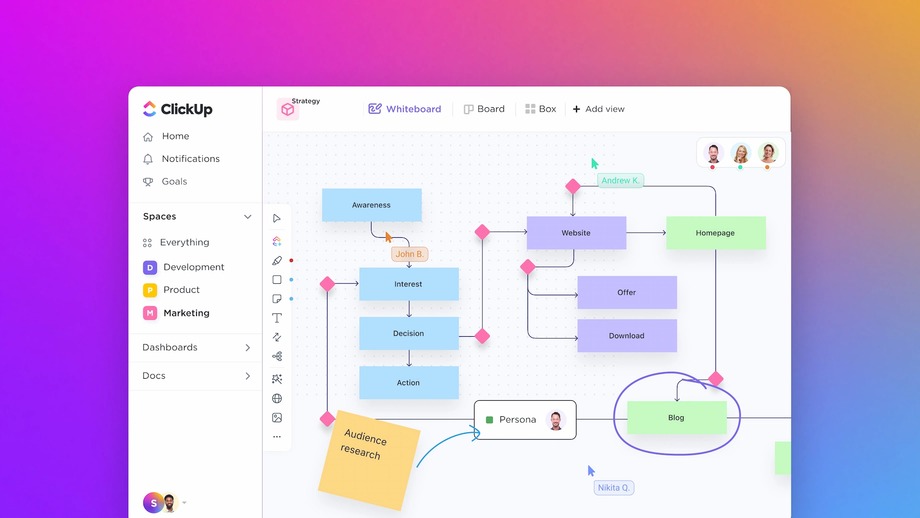 ClickUp offers a free plan with limited storage. The paid plans range from $5 a month per user for small teams to $19+ a month per user for bigger businesses needing access to more advanced features such as live onboarding training.
Asana
Asana is one of the best task management software when it comes to managing multiple tasks and projects at the same time and tracking deadlines. Asana's user interface has been carefully designed to provide an enhanced user experience and allows for efficient task management.
Some of Asana's beast features include the following:
Video messaging
Task dependencies
Private teams
Turning emails into tasks
Recurring tasks
Color-code assignments
Filters
Project status updates
Automation.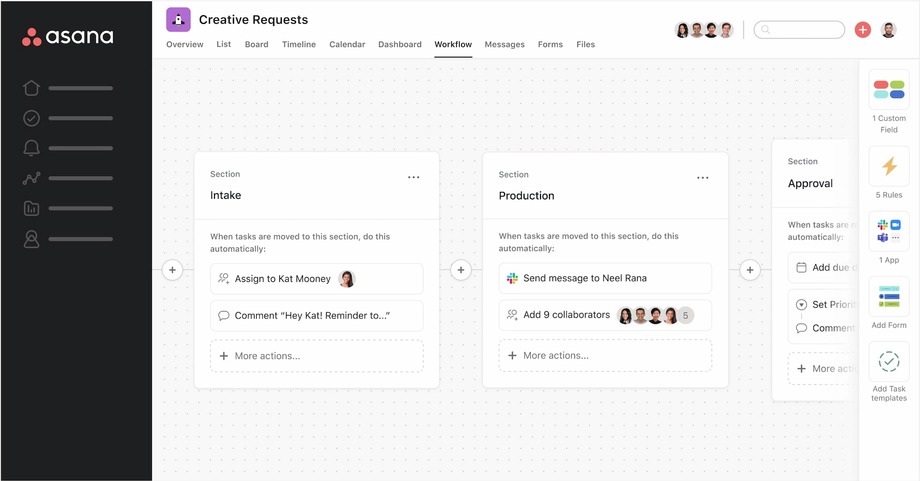 Asana offers users a free plan giving them access to limited but useful features such as calendar view, assignees, and due dates. The two paid plans are the premium plan ($13.49 a month per user) and the Business plan ($30.49 a month per user).
Trello
Trello is a task management software well known for its simplicity and its ability to help users manage their tasks and streamline their workflow. Extremely intuitive, Trello also features automated tools to save you time and hassle.
But that's not all. Trello comes with a mania of powerful features, including the following:
Users can create boards, cards, and lists to manage their tasks
Users can create subtasks within a card
Users can allocate tasks to several members and notify them automatically
Deadlines can be set up for each task
Teams can keep up with workload and deadlines through the activity log
Built-in automation system Butler
Integration with many apps and business tools such as Salesforce or Slack.
Trello has a fantastic free plan, but if you need access to more advanced features, you can choose between three different plans:
The Standard plan costs $5 a month per user
The Premium plan costs $10 a month per user and includes a free trial
The Enterprise plan costs $17.50 a month per user.
FAQ Section
Why do I need task management software?
Task management software allows you to be more efficient, more productive, and collaborate better with others. It's a fantastic tool to help you keep track of your workload and reach your goals without worrying about organizing your tasks every day.
What is the best task management tool?
Some of the best task management programs available include Todoist, monday.com, ClickUp, Asana, and Trello. And the great thing about these task management apps is that they all have free plans.
How can I organize my tasks for free?
Organizing your tasks doesn't have to be complex. And nor does it have to be costly. These days there are plenty of great task management programs such as Trello or monday.com you can use for free.