7 Best Time Management Tools You Need to Check Out
Updated on 26 Oct 2023 • 6 min read • posted by Yevhen Codes
How we spend our days is, of course, how we spend our lives.

Annie Dillard
Do you get easily distracted and struggle to stay focused?
Or perhaps you feel like you're working a lot but haven't accomplished much at the end of the day?
Time management is challenging, yet it's key in balancing your work or studies and well-being.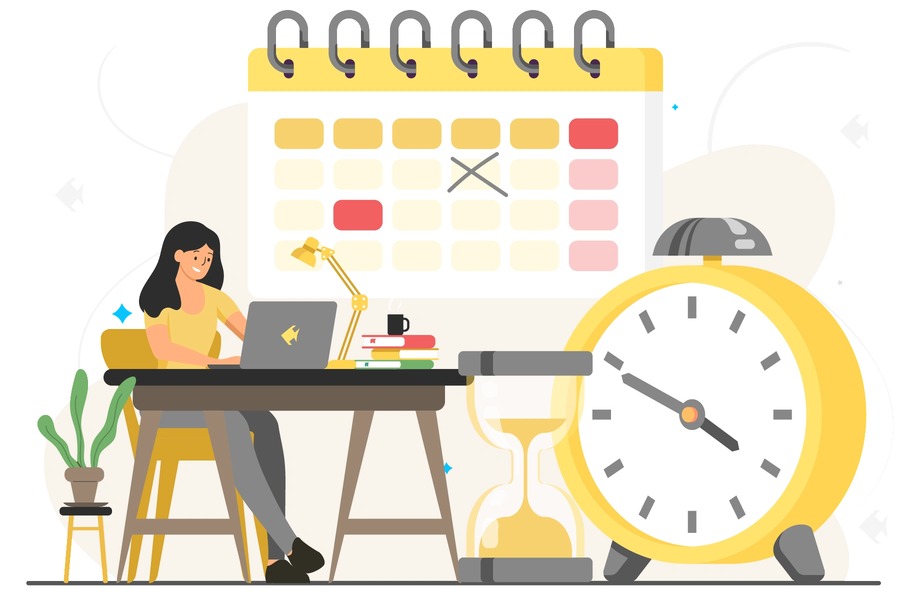 Effective time management can help you be productive and achieve important goals while allowing you to replenish your energy levels for sustainable performance.  That's where time management tools and apps come into play.
And to help you find the best one for you, we've listed the six best time management tools below. But first, let's review our three tips for effective time management and which factors you need to consider when choosing a time management tool.
3 Tips For Effective Time Management
Use a To-Do List
To-do lists are one of the best ways to manage your time efficiently because they allow you to jot down all the tasks you need to do for the day, the week, or the month and prioritize them.
Not only does it give you a clear picture of how you can achieve your goals, but it's also beneficial because it allows you to declutter your mind and enhance your focus.
What's more, manually crossing each item off your to-do list will give you a sense of achievement and empower you to keep going.
Use Time Blocking
Many successful people like Bill Gates admitted to using this technique to improve their productivity. The idea behind the time-blocking method is that every time you need to complete a task, you block time in your calendar. This time slot should only be dedicated to this specific task.
Now, the idea isn't to spend hours scheduling your calendar with all the tasks you need to accomplish for the week or the month. Instead, add priority tasks you absolutely need to complete every day for a week or two and go from there.
Use a Time Management Tool
While writing down your to-do list on your notes on your phone or in a notebook and blocking time in your calendar is a great start, the ultimate way to save time is to use a one-stop shop time management tool.
A time management tool will allow you to create your to-do list digitally, prioritize your tasks, set reminders, and easily collaborate with others. Some will even track your time while working on a task.
Implementing those tips to your workflow will enhance not only your figures but also your overall emotional state and well-being. You may also check out effective time-management skills for better result.
Best Time Management Apps
Now, with so many time management tools and apps out there, it can be hard to find the right one for you. That's why to help you and save you time (because it's all about managing your time efficiently), here's our list of best time management tools for 2023!
Are you often finding yourself procrastinating? Or do you find it difficult to concentrate for a long period?
Then, the Yellow Pomodoro Timer might be the best time management tool for you!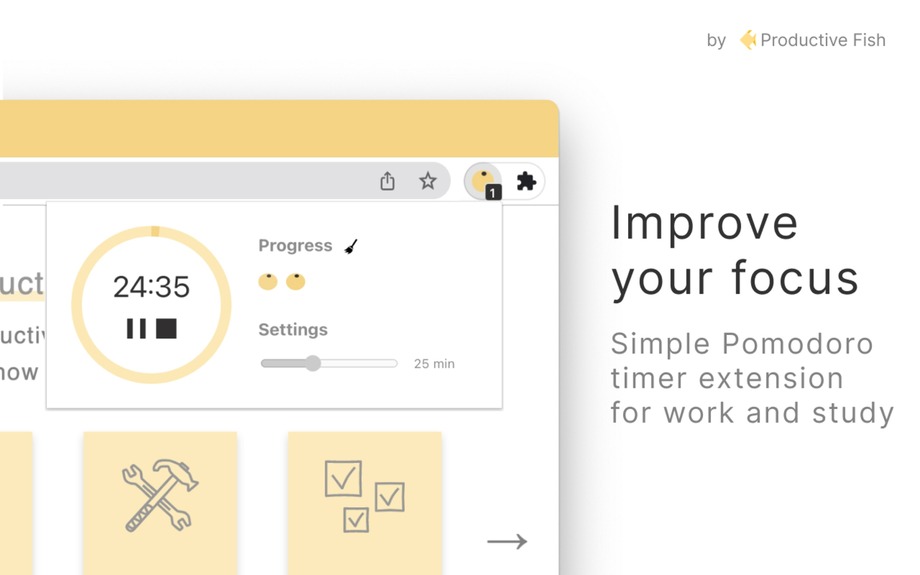 Yellow Tomato is a powerful Chrome extension based on the Pomodoro technique, a proven time management method. By implementing the principles of the Pomodoro technique, Yellow Tomato can help you boost your productivity and block distracting sites that you specify. With this timer, you are able to break down your large tasks or series of tasks into specific time intervals called Pomodoros.
You can use our timer here, and you'll also find more information on using the Pomodoro technique on the same page.
Motion is not just a simple space with all your tasks, but an assistant who will help you to store, adapt, and schedule everything smartly. It offers to set up custom time blocks to manage your time and organize your work-life balance.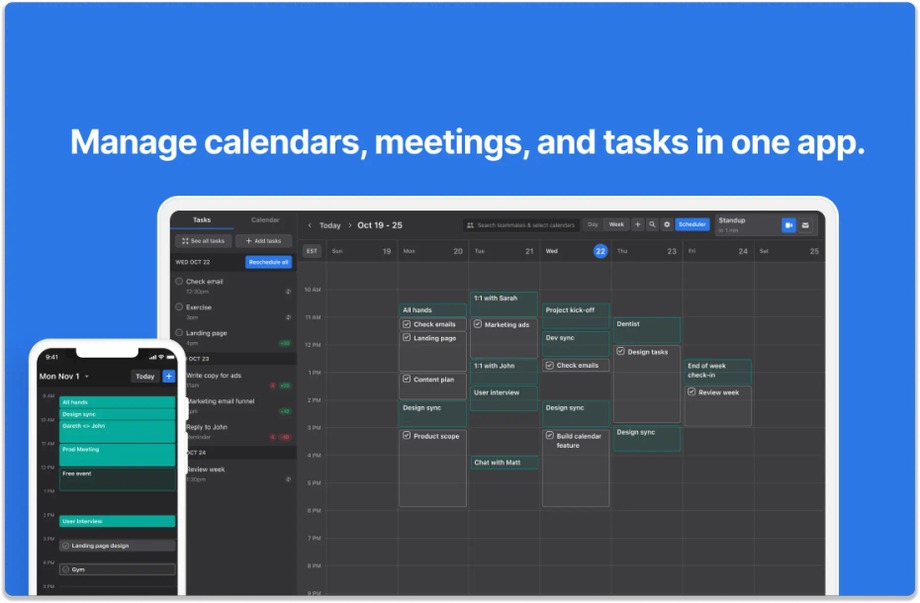 Automatic job prioritizing reduces context switching and protects unbroken work time. Include buffer time between chores so you may take a breather, and safeguard your weekends to reduce stress.
Todoist is the perfect online time management tool for people struggling to remember all the tasks they need to accomplish and don't know how to prioritize.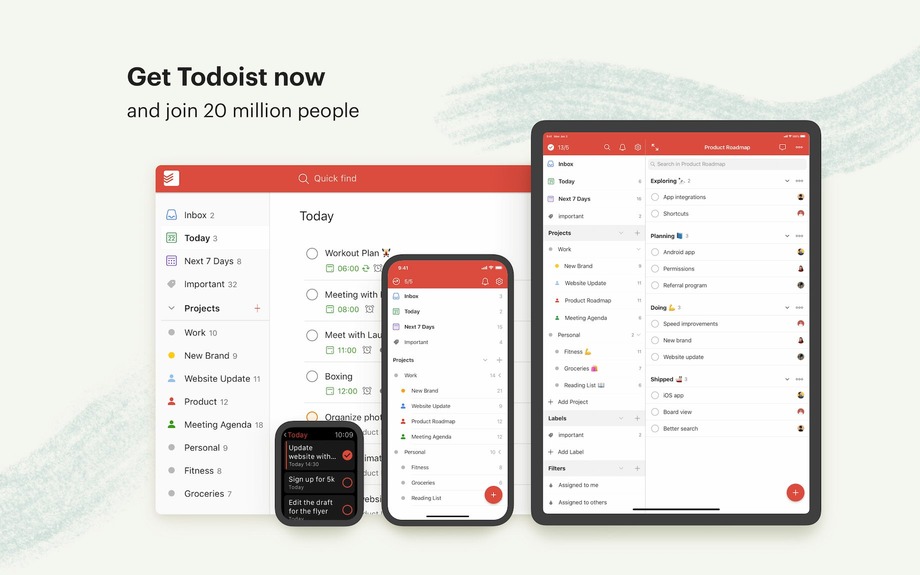 This fantastic app lets you create new tasks within seconds and set recurring dates to automate the process. In fact, automation is at the center of Todoist. Once you've input them into the time management app, your tasks will be automatically sorted into ''Today'', "Upcoming" and "Custom Filter".
You can also share your projects, set reminders, and easily mark a task as complete.
monday.com is a project management software designed to help individuals streamline their workflow and enable teams to collaborate and align efficiently. This advanced software is a one-stop shop platform and is best for individuals looking to centralize their work and increase synergies with other departments or teams.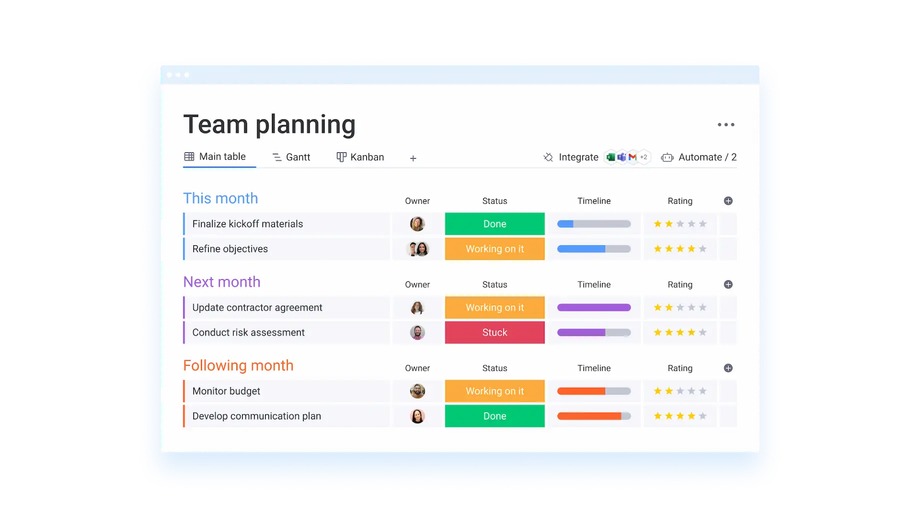 Along with integrating with a wide range of business and management tools, the app is extremely useful for collaborating on projects, collecting work requests, and managing your tasks. You can also easily block time and track the time you spend on each task allowing you to increase your productivity over time.
Forest is an online time management tool that gamifies time management.
The idea behind the app is that you plant a digital tree every time you want to be focused and set a timer.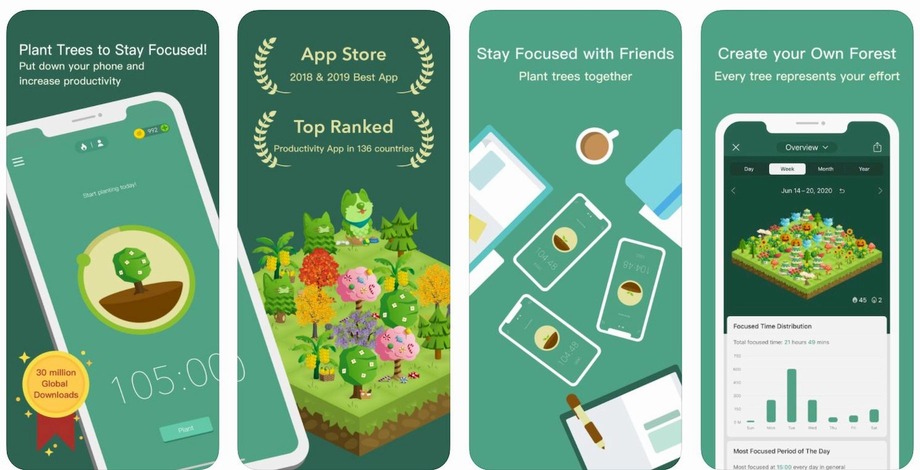 For instance, let's say you need to work on a project for 25 minutes. Your tree will grow while you work, but it will die if you leave the app before the 25 minutes.
Because exiting the app will kill your tree, this is particularly helpful for people who get distracted and tend to grab their phone to check their notifications or scroll their social media feed while studying or working. And it's also incredibly useful for people who struggle to focus on tasks and need visual stimulation and extra incentives to get things done.
RescueTime is an app designed to measure your focus. The app gives you clear insights into how you spend your time.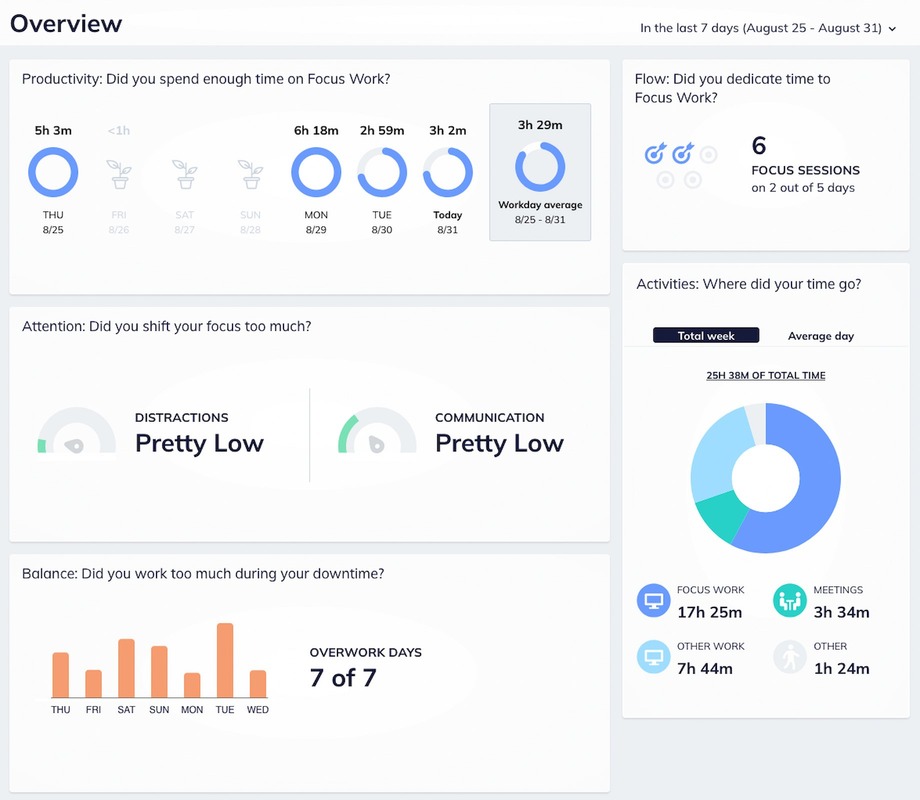 For instance, it will let you know how much time you spend on specific apps or websites, helping you allocate and manage your time better. And you can also set a ''focus time'' timer that will automatically block distracting apps and websites after a predefined amount of unproductive time.
Focus is key when it comes to managing your time, and RescueTime does a great job at helping people who are easily distracted stay focused on the task at hand.
Toggl is about making the most of your time. This time management app is a triple threat of productivity tools that helps teams do their best work by being effective, structured and user-friendly.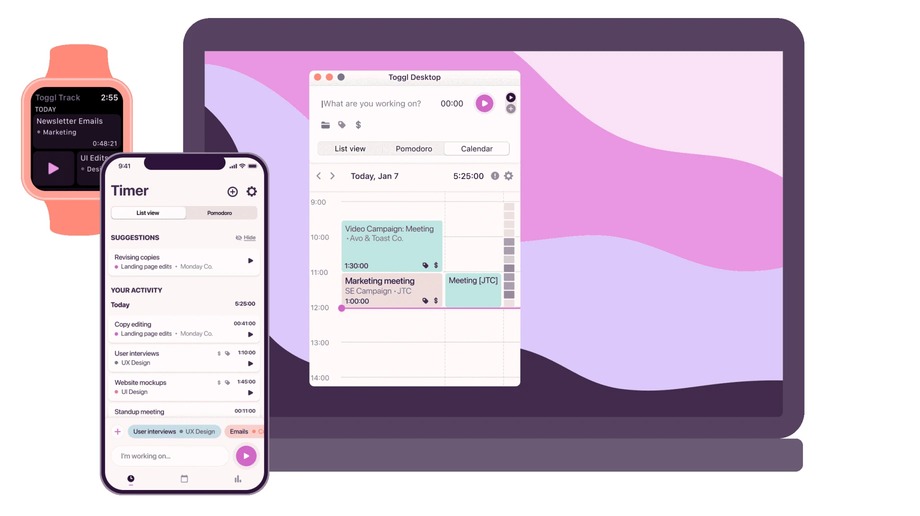 As a time management tool makes it easy to calculate the time you need for certain types of tasks and share them with others. You can track time by projects or tasks and see how your working process breaks down into hours and minutes in your reports.
Toggl Track app works online in a browser, and you can also install it on your computer or phone and track time and progress from there. All-time logs are synced to the cloud and your data is safely under one account.
How To Choose The Best Time Management Tool For You
Not all time management tools or time management apps are created equal. The best one for you depends on your needs and specific situation.
Here are some things to consider when looking for a time management tool:
Where Do You Work
Some time management tools are designed for windows, others for Mac and others for iOS or Android. If you're often on the go and need to work from your phone a lot, you need to find a time management app that makes it easy for you to do so.
How Do You Work
Do you use specific software in your everyday work? Do you often need to collaborate on projects with others? Do you often work on tight deadlines?
Depending on the way you work, you'll need to find an app that caters to your specific needs. For instance, working with tight deadlines means you need an app or time management tool that provides clear visibility of your deadlines and sends reminders.
Ease of Use
Now, the idea is to save you time, so you need to ensure the time management app or tool you choose does just that. What you need is a tool that can help you easily organize your task and track your time, not an app that takes time to learn and master.
That's why ease of use should be a top criteria on your list of must-haves. All the features should require a maximum of two clicks, and the innovation team should regularly improve existing features to make the experience even more seamless for users.
Budget
Of course, your budget is another key factor to consider. While having access to an easy-to-use management tool with a wide range of valuable features is the ultimate goal, it can also come at a price.
The good news is that some management apps are free for one user. Naturally, features will be limited, but this might be all you need ;)
Boost Your Productivity with Time Management Tools
Life can be chaotic, and you probably have dozens of things on your mind every single day. That's why researching the best time management apps available on the market is such an important step you're taking.
As Abraham Lincoln once said, "Give me six hours to chop down a tree, and I will spend the first four sharpening the ax." Choosing one of the best time management apps listed above will give you the tools you need to cut through your workload and achieve your goals!