Meditation Apps to Give You a Sense of Calm
Updated on 16 Nov 2023 • 6 min read • posted by Tania
Do you want to find more clarity, achieve a calm state of mind, and experience less stress in your life? If so, you should try meditation! The practice, which originated on the Indian subcontinent thousands of years ago, has since spread across the world. It is now known as one of the best ways to practice mindfulness, and has a myriad of health benefits.
Best Meditation Apps of 2024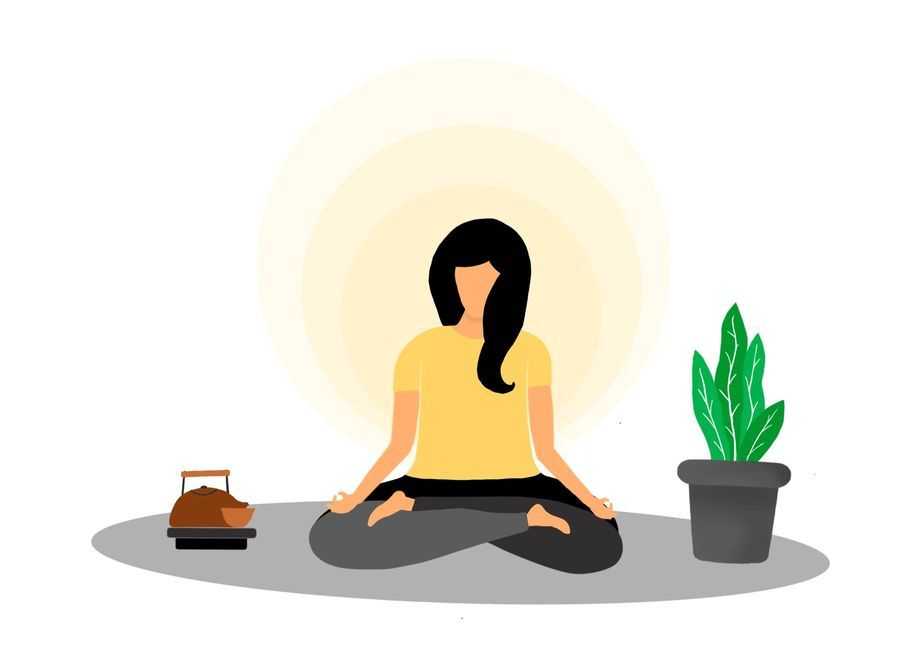 What is Meditation
Meditation is, quite simply, the act of being still. Practices encourage participants to take some time out of their day to be at one with the mind and focus on their body and breath. There are hundreds of different ways to meditate, depending on what the person wants to focus on. However, the entire concept of meditation enforces the practicer to be calm and still.
What Happens to Your Brain When You Meditate
There are actually scientific diagrams that document what exactly happens to our brain when we meditate. Scientists have used fMRI scans to examine the brain and see which parts light up pre, during, and post-meditation, and it's fascinating!
The main difference is that our brains stop processing information as actively as normal. Our beta waves generally demonstrate how our brains process information and these decrease significantly during practice. Parts of the brain are reported to go 'offline', giving them a chance to rest.
Meditation Health Benefits
So, what does this actually mean in our day to day life? Because meditation encourages us to focus our brains, the practice helps us train our minds to concentrate better in daily life.
Reduces anxiety
Meditation has enormous benefits in our anxiety levels, too. Scientists have found that when we meditate, we loosen anxious connections. So the more we meditate, the less worried we become! It also soothes our stress hormones by decreasing the amount of cortisol in our brain – too much cortisol can make us feel more stressed.
Become more creative
Do you have a creative block? Meditation could help! When we meditate, we send chemicals to the creative parts of our brain to stimulate them. Equally, our compassionate side is strengthened.
Enhances health
Even if you feel like your mental health is excellent, you will probably uncover improvements during meditation that you won't have acknowledged previously. What's more, meditation can help with physical illnesses, including IBS, migraines, chronic pain, and improving overall well-being.
Types of meditation
As we mentioned, there are hundreds of different types of meditation. Some are suitable for certain people, but not for others. In contrast, others focus on the objective that the person has for the practice.
We've highlighted six best-known ways to meditate:
Mindfulness Meditation
Mindfulness Meditation is maybe the most popular form of meditation in the west. When you meditate mindfully, you should observe thoughts that go through your mind, but not judge them, merely let them sit.
Focused meditation
Focused meditation involves focusing on one of the five senses. Practicers are encouraged to focus on noise or keep their eyes open and draw their attention to one object. Focused meditation is, as the name suggests, beneficial for gaining more focus and clarity.
Guided Meditation
In guided meditation, you will listen to somebody explaining the process. They will tell you what to focus on and what to picture in your mind's eye. That is why guided meditation is a good option for beginners. The structure of most guided meditations is the same: the instructor explains how the mind operates during meditation, guides you through a specific meditation method, and then offers tips on how to use the technique in your daily life.
Unguided Meditation
Unguided meditation (also called silent meditation) is solo meditation with no guide. This practice involves sitting quietly and focusing on the body and thoughts for a certain amount of time. Most people who practice unguided meditation have already experienced guided meditation.
Calming Meditation
Calming meditation often adopts focus meditation practices – the meditator might focus on their breath or a mantra as they try to relax the body and mind. The goal of calming meditation is to build a calmer, more serene state of mind and better focus.
Insight Meditation
Insight meditation, however, has a particular goal. Practicers have the intention to alter their mind in some way, and the content of the meditation focuses on that. You need to concentrate on breathing, observe any physical, emotional changes and thoughts that arise.
Top Meditation Apps with Reviews
You don't need to go to a class to begin practicing meditation — you can do it at home today! Either check out a YouTube tutorial or try one of the best meditation apps that are on the market.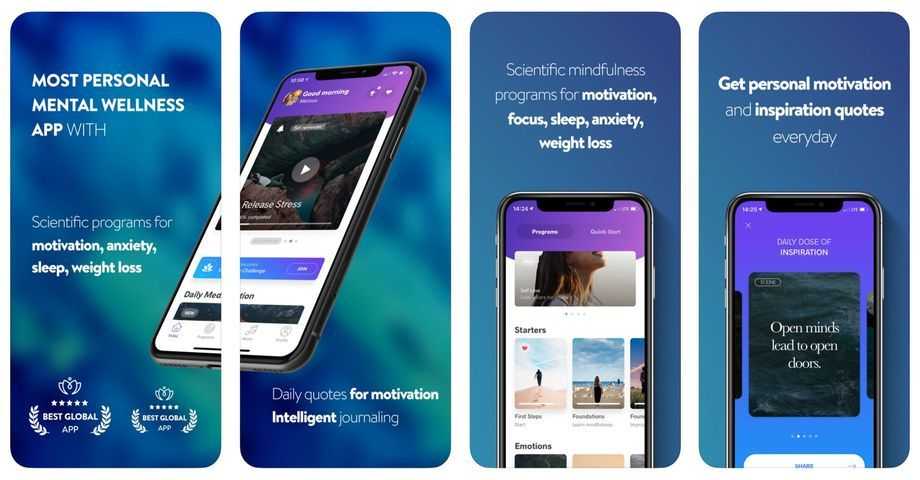 Whatever you need just simple music for relaxation or full guided meditation practice, even a whole course - this app will provide it to you.
Available practices are divided by topics: Mindfulness, Release from stress or anxiety, Better sleep, Loneliness, Tension, Motivation, Focus, etc. More specific topics like Pregnancy, Body-positive, etc.
You also able to choose meditation according to your meditation skills level (there are several courses of Basics for beginners) and relative to your current need or ability (e.g short 3 minutes meditation among the day). Separate courses for kids and students are also provided.
Meditopia features
Guided meditation
Relaxation music
"Take a note" - reflexion of your today feelings
Challenges
Badges
Reminders
Prices:
Basic plan with limited functionality for free.

Premium plan 7 days trial for free.

Premium plan for:

9.99$ per month
47.94$ for 6 month (12$ economy)
59.88$ for 1 year (60$ economy)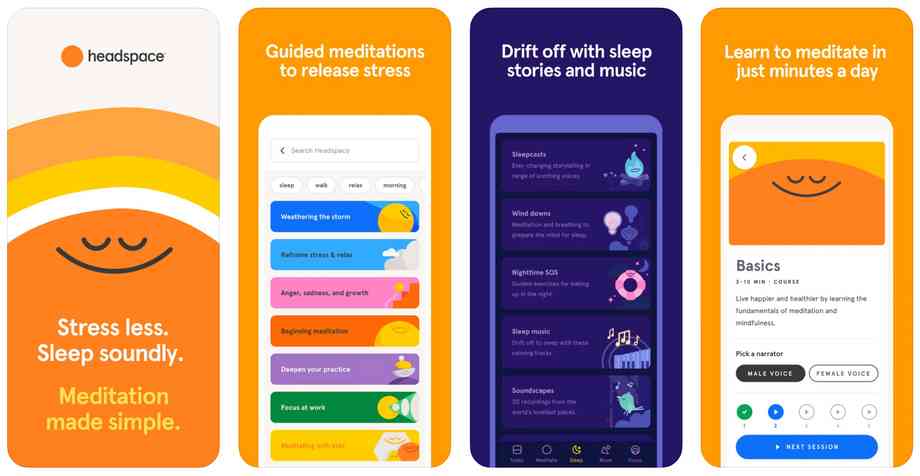 One of the oldest meditation apps with emphasis on personal meditation guidance and scientific researches behind meditation. Available practices cover lots of topics such as release from stress, sleep meditation, staying focused and productivity boost. It is well organised, provides additional features and good meditation app for beginners.
Headspace features
Guided meditation
Send as a gift
Reminders
Badges, Stats and Progress tracking
Prices:
Basic plan with limited functionality for free.

Premium plan 14 days trial for free

Premium plan for:

12.99$ per month
69.99$ per year (85.89$ economy)
99.99$ per year for family (up to 6 accounts)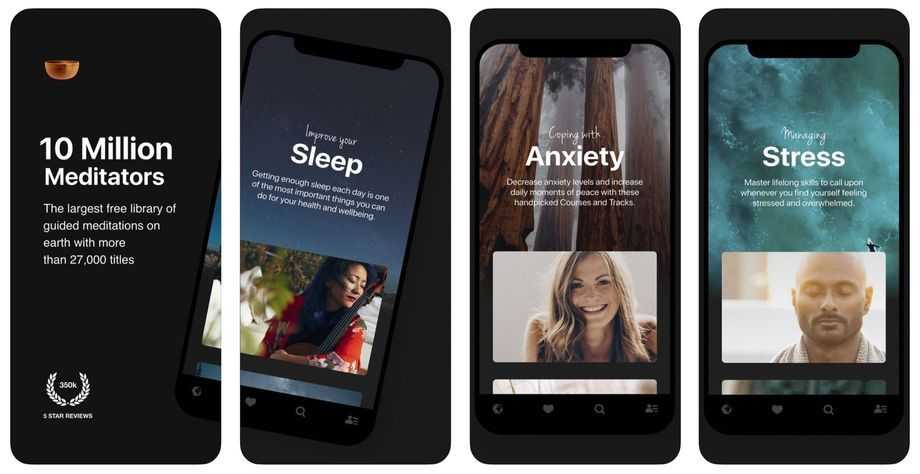 Insight timer provides a large number of free guided meditations and meditation courses on widespread topics: Stress release, Anxiety, Focus and better sleep. The practices collection in one of the biggest ones and a lot of different authors are presented. For those who are experienced enough and don`t need guidance there are also a meditation timer available. And provided timer functionality is quite something: background music, intermediate marks configuration, start/finish sound, warming-up and an ability to save all this as preset. Wow!
The other interesting thing here is a social functionality. You are able to connect with your friends and teachers and share your achievement after Sign in.
Insight timer features
Guided meditation
Simple meditation timer
Friends connections
Prices:
Basic plan with limited functionality for free.
Premium plan 30 days trial for free
Premium plan for 59.99$ per year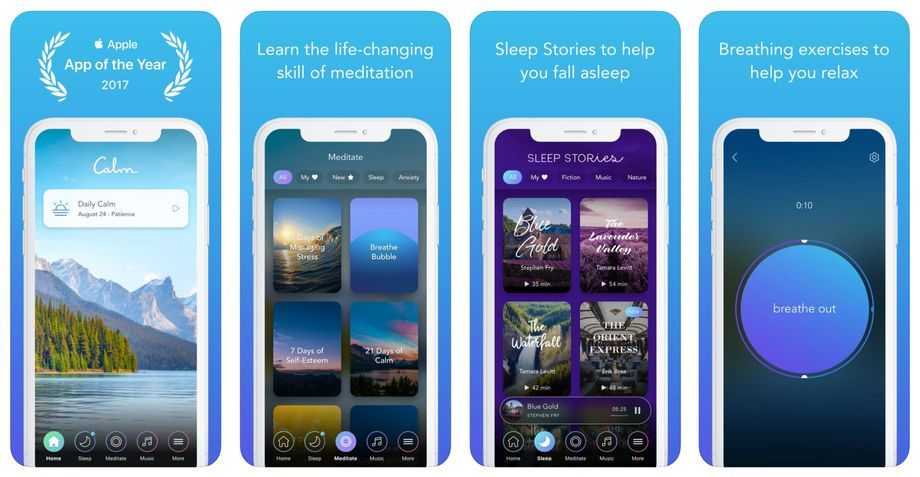 The Calm app curates soothing soundscapes and immersive sleep stories that gently guide you into a deep, restful sleep. What we especially appreciate is how it helps to relax, reduce stress levels, and enhance overall well-being through daily meditations and mindfulness practices. Calm also offers a feature that tracks our progress and the growth in mindfulness and mental wellness over time. It's more than just an app; it's a companion that helps navigate the stresses of daily life.
Calm features
Send as a gift
Share stats
Prices:
Basic plan with limited functionality for free.
Premium plan 7 days trial for free
Premium plan for 69.99$ per year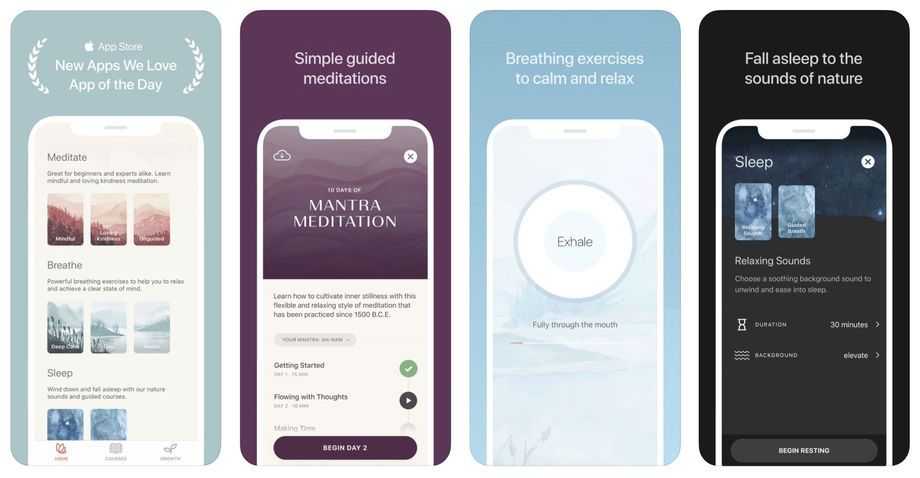 Beautiful application with minimalistic design and impressive functionality. It has various types of guided practices for meditation, breathing and sleep. Build-in timer meditation timer is quite flexible and will help you to practice on your own.
Oak features
Guided meditation.
Simple meditation timer.
Progress tracking.
Prices:
Basic plan with limited functionality for free.
Full meditation course for 5.99$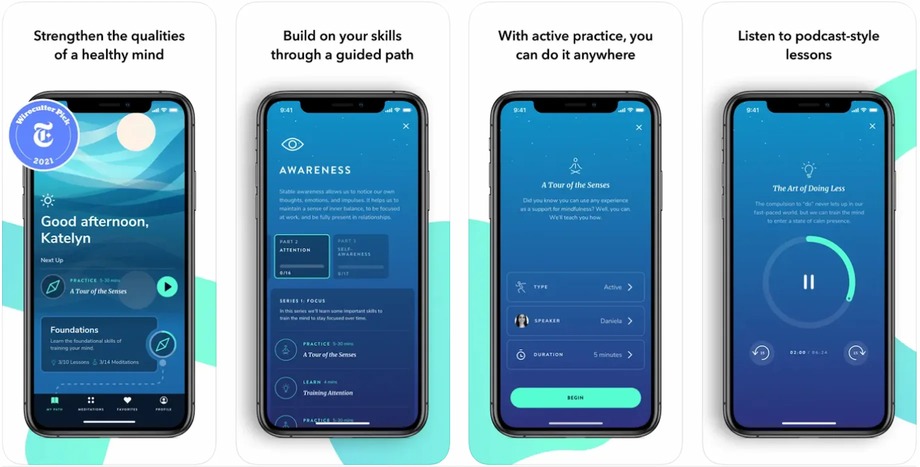 Healthy Minds app combines meditation and podcast-style lessons to train your mind and unlock skills for focus, stress reduction, and positive social connections. With guided meditations, progress tracking, and insights from leading neuroscientists, you'll transform your mind to manage stress and thrive in all aspects of life.
Healthy Minds features
Active and seated practices
Podcast-style lessons
Healthy minds report
Prices: free
Start Your Meditation
Make the most of life and meditate. The benefits are enormous, and it has never been more accessible than it is today! Whilst the meditation practice helps to focus and achieve a state of relaxation and inner peace, increase productivity, meditation apps can help you to learn new practices, stay motivated, and on track.
FAQ
Are meditation apps worth it?
If you are just starting your meditation journey, meditation apps could be a perfect support for you. Usually, they can offer you a number of options for guided meditations or even courses, as well as special background music or simply a timer. Meditation apps can also track your progress and it could be a great motivation for you as well.
How long should you meditate for?
You can start meditating from one minute a day, slowly increasing to 10-20-30 minutes a day. You can also try guided meditations and mix them with the techniques you prefer the most. The most important thing for beginners in meditation is regularity, so we recommend you to meditate for at least one minute a day.
Which is the best app for meditation?
It's kind of a tricky question, so we recommend you to try a few of the best meditation apps that we've reviewed on this blog, and choose the one that best fits your needs.
Is there a completely free meditation app?
The best apps aren't completely free, but one of our favorite meditation apps, Insight Timer, contains over 70,000 free guided meditations, musical sounds, and a timer for those who prefer to meditate in silence. It also offers premium features, however, using free ones is sufficient, both for beginners and more experienced users.
Is Calm the best meditation app?
Calm is an award-winning app with a lot of calming exercises, breathing techniques as well as some additional facts and research studies provided about meditation. It's rated 4.8 stars (out of five) in the App Store, putting it among the top-rated meditation apps.
What is the best free sleep meditation app?
If you're looking for the best free sleep meditation app you may like Insight Timer's sleep meditations, talks, and music tracks.