48 Of The Best Online Courses and Classes for Learning Something New, From Photography To Data Science
08 Apr 2021 • 6 min read
Are you thinking of enrolling in a new course to develop new skills?
Great initiative!
In 2021, online learning is more popular than ever, driven by technological advancements.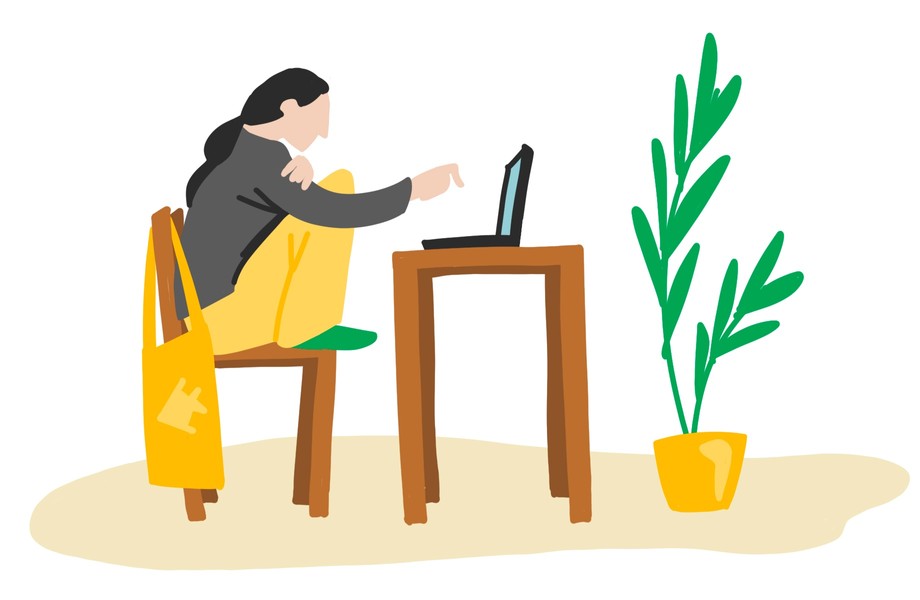 Indeed, digital learning tools have entirely revolutionized the way we learn, and teaching is no longer limited to classrooms. In fact, in 2020, massive open online course providers (or MOOCs) saw 180 million learners enroll in online classes globally with an impressive rise in business and technology-related subjects.
The reason these platforms are becoming so popular is that e-learning offers tremendous benefits.
It's a flexible way of learning that allows students to fit their studies around their busy schedules and learn at their own pace.
Online courses are also often more affordable and can significantly boost your career as most of them partner with top universities.
Lastly, they allow employees to upskill without having to quit their job and lose revenue.
Wondering what the best online courses and classes are?
To assist you, we've highlighted below 12 of the best online learning platforms, including some offering free online courses with certificates.
Coursera
Coursera is an online video-based learning platform. It offers students thousands of online courses across various subjects from health and personal development to computer science and business.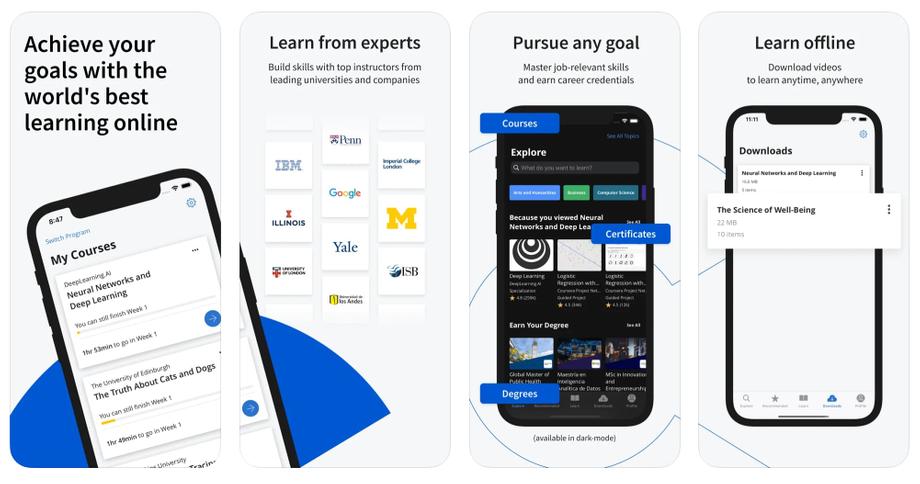 Benefits:
The platform has formed high-quality partnerships with over 200 leading global universities and companies, including Yale, Stanford, Google, and IBM. Therefore, this allows students to significantly improve their chances to land a great job or upgrade their careers.
Specializations and courses to check out:
Udemy
Udemy is one of the most popular online learning platforms. It features over 130,000 courses across many subjects, from video editing and stock trading to machine learning. As a matter of fact, the platform is so popular that it has helped 35 million students learn new skills or upskill since its creation in 2009.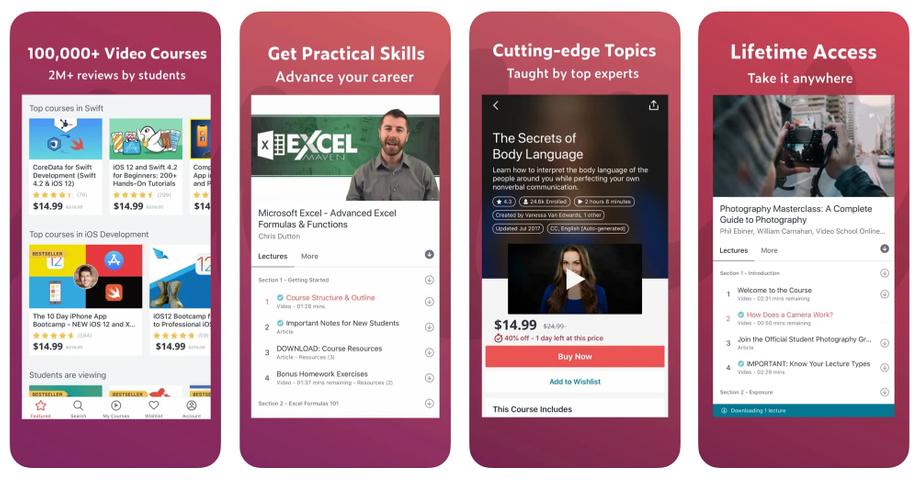 Benefits:
Two of the main benefits of using Udemy for your learning goals are the impressive active community it has gathered and the incredible diversity of subjects available. Students also like Udemy's rating system as it allows them to quickly assess a course's quality and relevance.
Popular Udemy online courses to check out:
edX
edX is another popular online course provider. It was founded in 2012 by professors from MIT and Harvard. Since its inception, it has provided courses to 35 million users. The platform currently offers over 3000 high-quality interactive courses and accredited certificates created by reputable organizations, including leading universities such as MIT, Harvard, or Berkeley.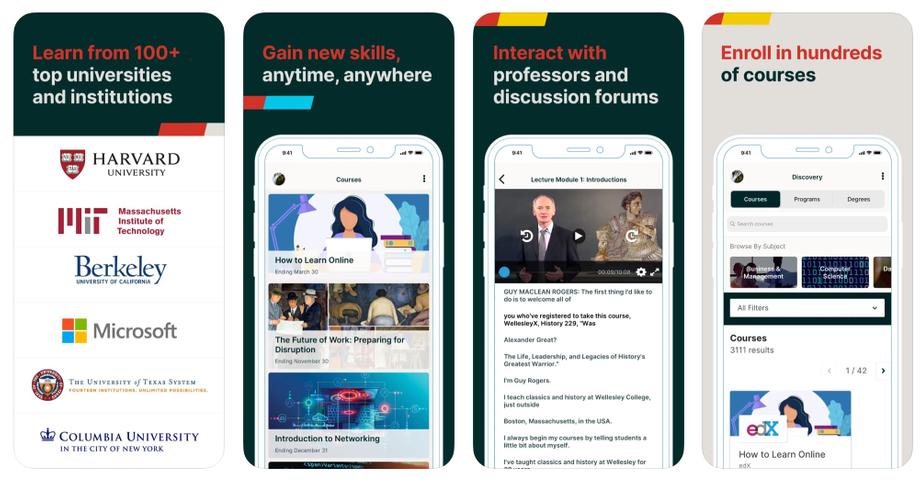 Benefits:
The top quality of edX online courses is undoubtedly one of the biggest strengths of the platform. Additionally, with edX, students can audit over 2,500 courses for free and only pay if they want the accreditation.
Classes to check out:
FutureLearn
FutureLearn is a British massive open online course learning platform founded in 2012. It is co-owned by The SEEK Group and The Open University which is the UK's largest undergraduate university. FutureLearn partners with the world's top universities and institutions and offers fully accredited online courses, micro-credential programs, and online degrees.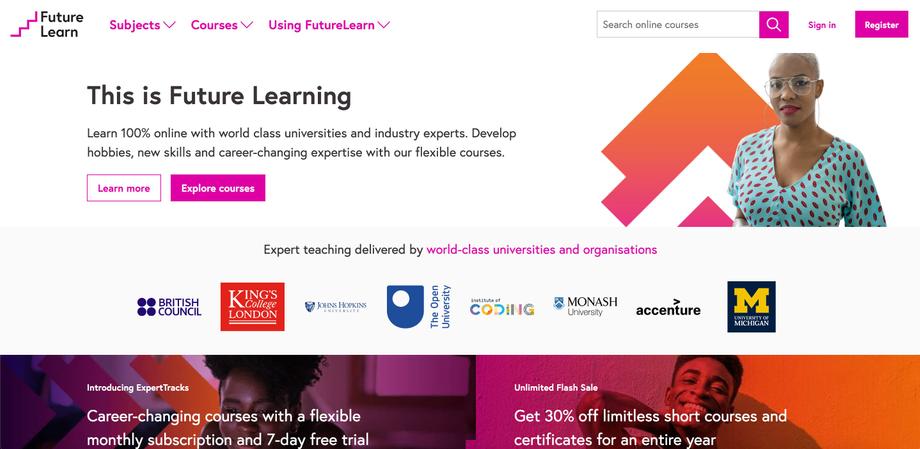 Benefits:
Some of the main benefits of using FutureLearn include well-built curricula and outstanding instructors. The platform also boasts an incredibly active and supportive community of co-learners.
Classes to check out:
MasterClass
MasterClass is an online educational streaming platform that was founded in 2015. It allows experts in their field to create online tutorials to teach their knowledge to others. MasterClass currently features over 100 courses across nine different subjects taught by celebrities and is rapidly gaining immense popularity. Among the famous instructors dispensing classes on the platform, you'll find Gordon Ramsay teaching cooking or Neil Gaiman teaching writing.

Benefits:
The high-profile instructors dispensing the classes and the mind-blowing quality of the videos uploaded onto the platform allow students to learn new skills in an entertaining and captivating way.
Best Classes on MasterClass to check out:
Skillshare
Skillshare is an online learning community platform providing educational videos for creative minds who want to learn new skills or improve their existing ones. It currently provides students with over 25,000 online video courses across various subjects, including photography, writing, and illustration.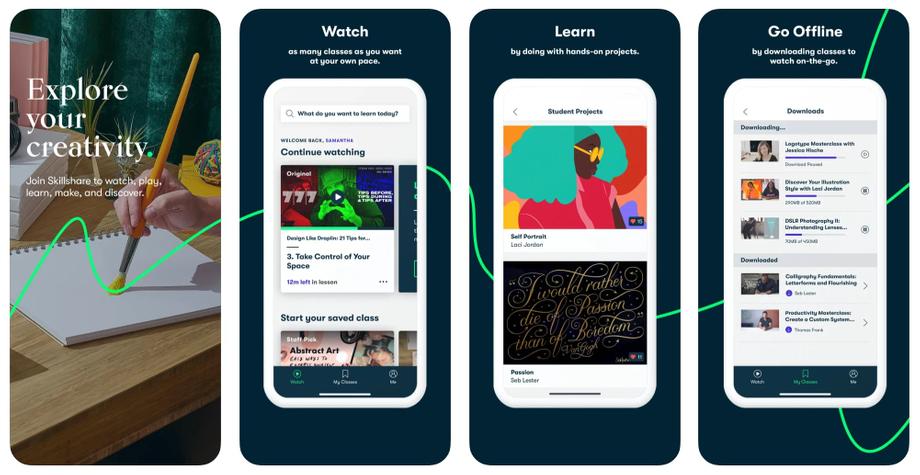 Benefits:
The wide range of courses available is one of the strengths of Skillshare. Besides, the platform recently launched live sessions and the ''Groups'' feature, allowing students to easily connect and grow within a creative community.
Classes to check out:
Khan Academy
Khan Academy is a non-profit online education platform providing some of the best free online classes available. And these high-quality educational resources allow anyone to gain new skills regardless of their financial situation. The platform is designed to empower students and encourage them to learn at their own pace. As a result, it provides them with free video tutorials and interactive exercises to practice what they've just learned.
Benefits:
Khan Academy has a wide variety of courses to choose from and is 100% free. Besides, the dashboard feature allows parents and teachers to easily monitor the progress of the students.
Classes to check out:
Codecademy
As the name gives it away, Codecademy is an online learning platform designed for people who want to code. This reputable coding platform provides students with free coding classes across 12 different languages, including Python, Java, Go, or JavaScript. Since its creation in 2011, it has enrolled over 50 million users.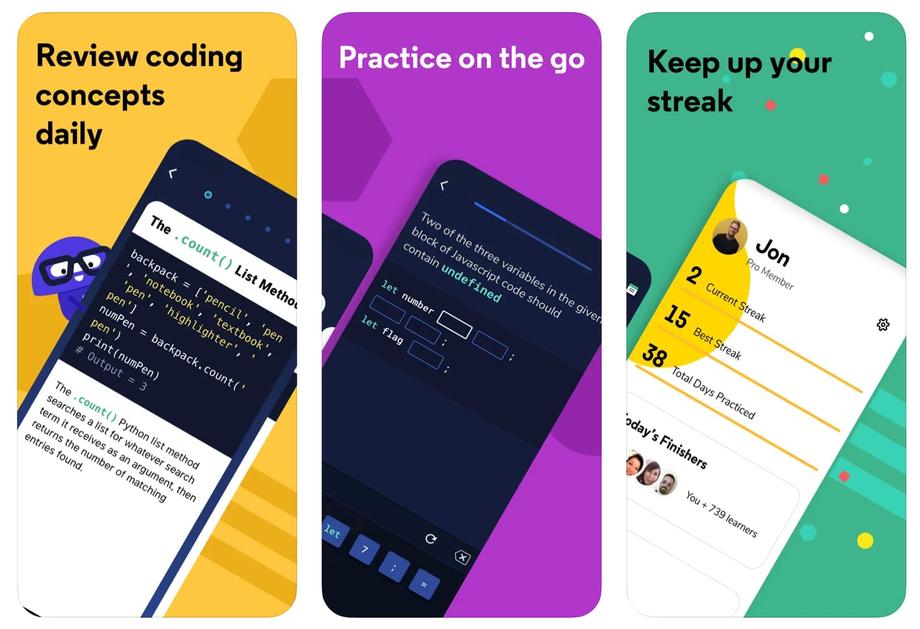 Benefits:
Codecademy is one of the best online learning platforms to learn how to code. As such, the site provides students with great credentials to add to their resume, helping them land their dream job. Also, the high-quality content and the ease of use are two things students often praise Codecademy for.
Classes to check out:
Udacity
Udacity is one of the most popular e-learning providers globally for tech-related topics, including cloud computing, artificial intelligence, or web development. It currently provides users with over 180 of the best free online courses.
Benefits:
One of the main appeals of the platform is its signature nanodegree programs. Indeed, these programs are particularly reputed and include courses designed by leading industry experts, a series of projects, support classes, and valuable mentorship. This enables students to benefit from a personalized experience and extensive support while gaining industry-recognized credentials.
Classes to check out:
Alison
Alison is a free e-learning platform specializing in basic education and workplace skills training. It currently offers over 2,000 online courses across a broad range of sectors, including IT, management or sales, and marketing. It also provides students with certificate programs and diploma courses.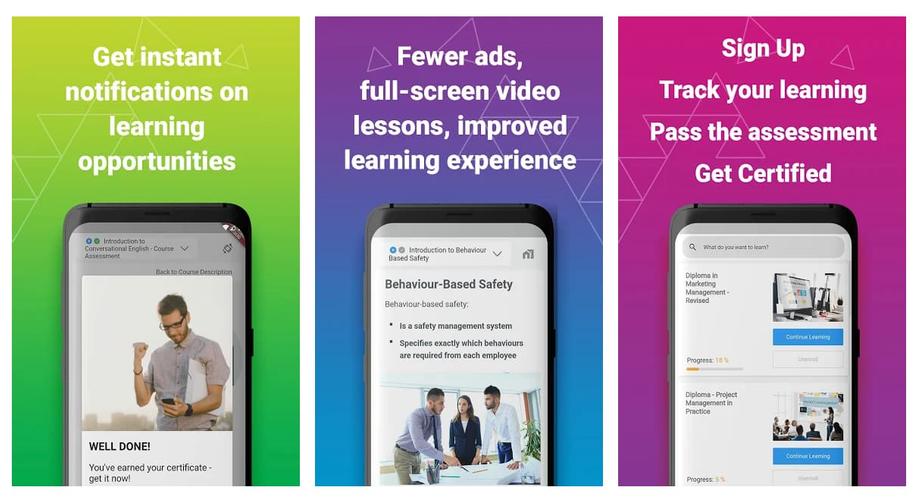 Benefits:
Alison provides some of the best free online classes available. And the best thing about this platform is that it also features free online courses with certificates.
Classes to check out:
LinkedIn Learning
LinkedIn Learning is an educational platform providing users with video courses across creative, business, and technology-related subjects. It currently features over 16,000 classes in 7 different languages. The high-quality courses are designed for both individuals wanting to learn new skills and organizations seeking to upskill their staff.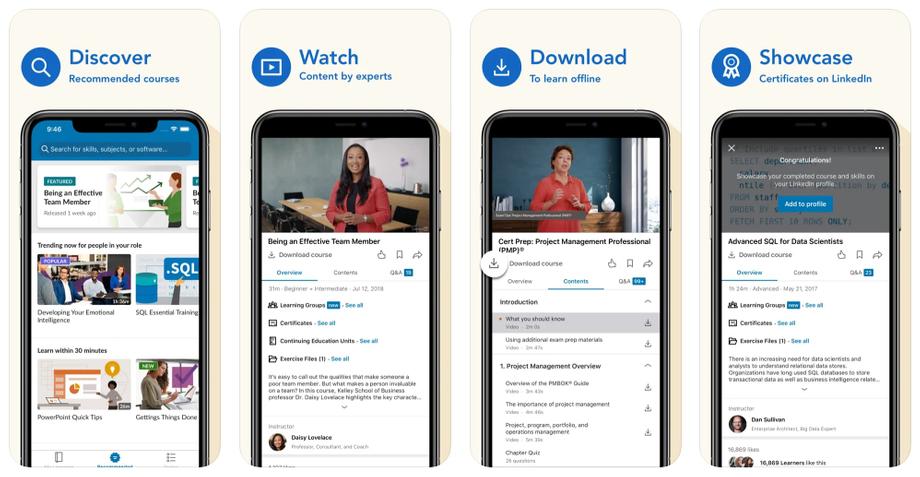 Benefits:
LinkedIn tightly controls the quality of the videos published on LinkedIn Learning. Therefore, it only provides top-notch content to its users. One of the other significant benefits of LinkedIn Learning is that it offers various free online courses with certificates, which is extremely rare for online education providers.
Classes to check out:
Harvard Online Courses
Did you know that the prestigious Harvard University offered free online courses?
The Harvard online courses platform has been designed for people seeking to improve their skills, learn new things or boost their employability. As a result, it provides both paid and free courses across a broad range of subjects, including health and medicine, programming, and art and design.

Benefits: One of the main benefits of enrolling in a Harvard online course is the fact that you'll be able to add Harvard to your resume. Now, if you ask us, that's a pretty powerful name to have on a resume! Besides, the platform provides online courses with free certificates, which is a massive bonus for students on a tight budget.
The Best Free Couses and Classes offered by Harvard University to check out:
Want to get a unique experience studying at Harvard University right from your couch? That's the place when you can get the benefits of the quarantine. Take the Performance Measurement for Effective Management of Nonprofit Organizations Course Online with live interactive sessions each day, and separate group work before or after the session, depending on your time zone.
Feeling inspired? With so many high-quality resources available online, we're pretty confident you'll find the right platform and course to suit your needs and goals. And if you have used any of the platforms listed above or are planning to, let us know in the comment section below. We always love to read about our readers' experiences!